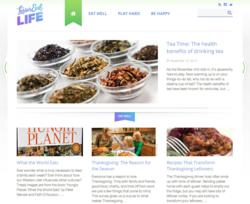 Our tips are digestible and many readers quickly adhere to the advice.
Wilton, CT (PRWEB) February 13, 2013
In the US, February is Heart Healthy Month, and LesserEvil Healthy Brands is taking extra care to encourage consumers to live a healthy and active lifestyle through Facebook posts and articles on their sister blog LesserEvil Life.
"It doesn't take much to make a big difference in your health," says LesserEvil staff writer Kellie Davis. "Our Brand Manager Kristen Cardilli and I came up with easy ways to help our fans get active and make better lifestyle choices through simple daily habits."
Through Facebook, LesserEvil offers morning exercises tips to help fans start the day off right. From simple yoga moves to full body routines, these daily workout ideas get followers talking, and more importantly moving right in their own living rooms.
In addition, LesserEvilLife is filled with daily health tips that encourage living a happier, healthier, more active lifestyle without requiring a total life makeover. "Our tips are digestible and many readers quickly adhere to the advice. They realize that our suggestions don't require too much effort, yet they can create such positive changes," says Davis.
This month, the healthy snack food company posted walking workouts to improve heart health and also created healthier versions of favorite snack recipes using LesserEvil's newly launched Chia Crisps. From lower fat nachos to a lighter version of the mini cheeseburgers, these tasty treats are just as satisfying as the old standard—minus the excess calories.
"At LesserEvil, we're not about taking the enjoyment out of life for the sake of health. In fact, it's the opposite. We want people to have those comfort foods, so we find better ways to incorporate them into the lives of our fans," says LesserEvil CEO Charles Coristine.
About LesserEvil Healthy Brands
LesserEvil Healthy Brands is a snack food company founded in 2004 with the mission to create natural, healthier snack food than many other snack foods on the market. The company's award winning all-natural snacks are produced without trans fats, preservatives, artificial flavors and colors, high fructose syrup and gluten ingredients that many other snack products use. LesserEvil's snacks are full of flavor, and still gives people a sinfully delicious treat without the guilt. LesserEvil has innovated the snack industry with their LesserEvil solution. They believe that life is about balance, and they don't believe in being perfect. LesserEvil vows to continue its mission to fight bad snacking with a little goodness. Join them in their journey towards a LesserEvil life.