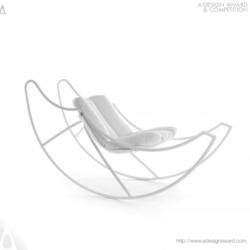 Como, Italy (PRWEB) February 13, 2013
Furniture, Decorative Items and Homeware Design Competition Platinum A' Design Award Winner
A' Award and Competitions are encouraged to announce that the work Ali Di Luna (Moon's Wings) by Stefania Vola has been acknowledged with the renowned Platinum A' Design Award at Furniture, Decorative Items and Homeware Design Competition marked as a winner by the international referees of the A' Design Awards & Competitions among numerous works.
More information on Ali Di Luna (Moon's Wings)
Stefania Vola, the lead designer of the awarded work Ali Di Luna explains "This particular rocking chair was designed to obtain a form that is airy and dreamy; comfortable and fun, which could invite people to sit and relax. Tubular metal structure is painted in white. Features a special shaped pillow upholstered in alcantara flame-retardant (class 1) textile. With its iconic design, Ali Di Luna fits contemporary spaces such as SPAs, swimming pools, and cocktail bars perfectly. Ali di Luna can be used both outdoors and indoors."
The Platinum A' Design Award
The Platinum A' Design Award is a prestigious award given to top 1% percentile designs that has accomplished an exemplary level of excellence in design. The designs are judged by a panel of three different jury which is composed of Academic, Professional and Focus Group Members. The designs are evaluated with score normalization to remove any biases and are voted on aspects such as functionality, ergonomics, engineering, presentation, innovation, usability, fun details, technology, and any other specific points that could be considered, each of these points are further weighted for different jury groups.
About A' Design Award and Competitions
A'Design Award and Competitions, aims to highlight the excellent qualifications of best designs, design concepts and design oriented products. A' Design Award and Competitions are organized and awarded annually and internationally in multiple categories to reach a wide, design-oriented audience. To learn more visit: http://www.whatisadesignaward.com