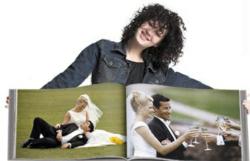 We can produce this beautiful album with any of our wedding plans that include photography.
Honolulu, HI (PRWEB) February 14, 2013
Hawaiian Style Weddings offers Hawaii destination weddings and vow renewals with customizable packages. Wedding services are offered on all the major Hawaiian Islands including Maui, Oahu, Kauai and the Big Island. Clients can choose qualified local wedding vendors to make up their specialized wedding team.
A variety of local officiants and photographers are profiled for each island. Most other wedding planners offer complete packages but offer few vendor selections and the customized plans are not available. Hawaiian Style Weddings offers each client this custom wedding feature. Of course those vendors' availability depends on their individual schedules.
Hawaiian Style Weddings offers a selection of vendors and now, goes the to the next step with the client's selected photographer. A choice of photographic products is now available at a variety of price points. The newest product is a handsome coffee table album of wedding memories. Still available are the ever popular all shots on a CD or a simple photo album of 4 x 6 images. With this variety of price points and media, all wedding memories can be shared.
Hawaiian Style Weddings Director Jana Rothenberg says "We believe in delivering great products at a great value. For example, the new large format photographic option is our coffee table wedding album. We can produce this beautiful album with any of our wedding plans that include photography. This new option is available for any island wedding."
The few Hawaii photographers that even offer this option usually price it at $800- $2000. Hawaiian Style Weddings option costs $295. The client will enjoy the 20 pages of 11' X 15" pages in a hard cover album. For a small extra fee of $5 per page the client can expand the album. The page design offers one large photo or multiples so the book is suited for all the client's shots. Other quality options include increasing the thickness of the paper stock for customer enjoyment.
Wedding clients can work with the photographer for a custom design or allow the photographer to choose the best shots for them. Album designer Mark Steffan says he tries to tell the story of the wedding giving emphasis on certain moments. These include that photo that shows placing the rings on the bride and groom fingers, the kiss at the conclusion of the ceremony and certain couple shots taken towards the conclusion of the event.