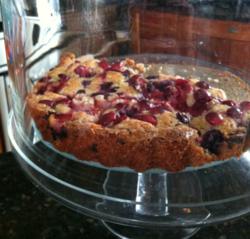 Always have T'ART in the pantry
Brookline, MA (PRWEB) February 13, 2013
Celebrate Valentine's Day by baking. The good news is, the basic ingredients are already in your refrigerator - egg, butter and fruit.
Valentine's Day is one of the major spending holidays in the U.S. and although flowers and chocolates remain some of the most in demand gifts, it is a chance to be different . This year, be original and make it from your heart. With T'ART, a prepared baking mix, just add luscious red strawberries, dark purple raspberries or a combo and chocolate chips –and a very special and delicious Valentine's surprise is being created. Add a special touch by baking it in a heart shaped pan to bring the sprit of the day to life. Here, Linda Amir shares her three different Valentine ideas;
1. Thinly sliced strawberries with white and dark chocolate chips
2. Whole Raspberries with white chocolate curls
3. Mix sliced strawberries and raspberries, splash some Sabra liquor (or Grand Marnier) and top with a handful of chocolate chips
This divine dessert takes 7 minutes to prep and bake for 45 till golden brown. Enjoy T'ART with a glass of champagne, glass of red or white wine or a warm cup of coffee or tea. It promises to be a homemade treat that will be appreciated and remembered for along time!
About Amour Creations:
Created with a unique idea and a sweet tooth in mind, Linda Amir, founder and creator of the T'ART maker, set out to create the perfect baking mix that's quick, easy and delicious. An alternative to pies and cakes, T'ART is a baking mix that pairs "art" with "tart" and has been providing no-fuss sweet and savory tarts to customers for a little over two years. For locations on where to buy, visit http://amourcreations.net/find-us-near-you/ or purchase the mix online at http://amourcreations.net