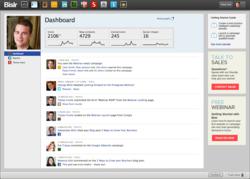 "We're bringing to the market the first intelligent website marketing solution that solves web marketers' biggest time-wasting problems, and empowers them to deliver their highest-impact, most creative projects."
San Francisco, CA (PRWEB) February 15, 2013
Bislr today launched its new intelligent website marketing solution. With Bislr, web marketers have total control to immediately create, optimize and manage websites and campaign sites for the social and mobile era. Along with the new solution, Bislr also announced that it has raised a $3.5 Series A round of funding led by Southern Cross Venture Partners. The round also included personal investments from both Tim Draper and Terry and Katrina Garnett.
Bislr integrates intelligent marketing applications for real time social and mobile lead generation, advanced A/B testing and automatic de-duplication of marketing databases. Bislr's intelligence allows marketers to understand who their prospects are, what their prospects want and, using this intelligence, customizes calls-to-action to achieve higher conversion rates from their websites.
After more than a year of development and hundreds of successful beta deployments, the product is ready to serve small to medium enterprises as well as divisions of global enterprises.
Putting Power in the Hands of Small Businesses
Bislr's intelligent website marketing gives small businesses an all-in-one, drag & drop solution for web and demand creation. In just a few days and for about one-tenth of the typical cost, businesses can:
● Launch their websites and begin to generate qualified leads
● A/B test calls to action
● Track marketing campaign return-on-investment (ROI)
● Send email marketing campaigns
● Segment their databases
The websites are instantly mobile, social and highly search-engine optimized, allowing them to drive leads from multiple channels and have greater sales insight from Bislr's intelligence engine.
Enterprise Marketers Get Full Control to Set Up Campaign Sites and Corporate Sites
For enterprise marketers and demand generation managers needing to launch sites quickly, Bislr gives unprecedented control. Without needing technical or graphics support, marketers can use Bislr's drag-and-drop tools to create campaign websites or corporate websites in just hours -- dramatically cutting the time to launch. Campaigns are instantly mobile and social, eliminating the need for expensive third-party tools and weeks of device testing.
Integrated Social Streaming Across All Channels
Because of the workload and specialized skill needed to update their websites, web marketers are turning to social channels like Facebook and Twitter to release the innovative content they produce. But every tweet that points to a YouTube video generates traffic that skips the corporate website entirely. By using Bislr's drag & drop social apps, marketers can easily embed any and all social channels right into their websites – capturing prospects that would otherwise go to social sites and integrating them into their own website experience.
Websites and Campaign Sites Are Instantly Compatible with Every Mobile Device
One of the most tedious and costly problems for web marketers is ensuring that their websites are compatible with every new mobile device that debuts – practically a monthly occurrence. Designed to automatically adjust layouts using responsive web design, web pages created in Bislr are instantly mobile and display perfectly on all models and sizes of tablets and smartphones. Forms instantly become mobile-friendly, which enables marketers to generate more leads on mobile devices. This is a critical development given that, according to DM Confidential, nearly 1 in 4 website visits came from smartphones and tablets in December 2012.
Highly Productive Web Marketing with Automatic De-Duplication and Real-Time A/B Testing
Bislr makes web marketers more productive – and cuts costs – by rolling a number of essential tools into a single, easy-to-use solution, spanning A/B testing, visual email marketing, web analytics and de-duplication of marketing databases. Core to Bislr is its unique user experience, with a visual editor, built-in tutorials at every step, and a library of apps that allow users to embed social channels, forms, videos and other content by simply dragging them into place. A typical customer can save up to $100,000 by standardizing on Bislr, generating websites – and web leads – in a matter of hours.
Bislr is designed to complement a company's existing investments in marketing automation (MA) and customer relationship management (CRM) tools. Bislr can capture the traffic – and resulting sales leads – that would have gone to social sites and funnel them directly into MA and CRM systems so they can be merged with contact records, added to drip-marketing campaigns, and much more.
"The social and mobile website of the future is here; the traditional corporate website is dead," said Bislr co-founder Michael Sharkey. "We, like many marketers, were frustrated by a lack of integrated tools to build and manage websites. With the disruptive growth of smartphones and tablets, it's made the issue more prominent. We're excited to launch Bislr today; we're bringing to the market the first intelligent website marketing solution that solves web marketers' biggest time-wasting problems, and empowers them to deliver their highest-impact, most creative projects. With Bislr they're going to deliver highly qualified leads from the web much faster and for about a 10th of the traditional cost."
Pricing
Bislr's pricing starts at $99/month for Economy, which includes web hosting, social media apps and connectivity, landing pages, contact management features and more.
Free Webinar on February 19, 2013
To learn more about the new Bislr's intelligent website marketing solution, the company will host a free webinar on February 19, 2013. The session will focus on how to build a social, mobile website and capture traffic that would otherwise go to social channels. Click here to register.
ABOUT BISLR
Bislr delivers intelligent website marketing products that enable marketers to immediately create, optimize and manage their websites for the social and mobile era. Designed for web marketers to actively control the entire lifecycle of next-generation websites through drag & drop creation, social/mobile channels, real-time testing and analytics. Bislr complements customers' investment in marketing automation & CRM systems, making them more valuable by contributing new leads and integrating modern/mobile platforms for more impactful marketing campaigns.