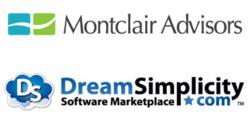 We are committed to strengthening it's reputation as the premier resource for all matters SaaS.
Oakland, CA (PRWEB) February 13, 2013
Montclair Advisors, a leading provider of strategic Software-as-a-Service (SaaS) solutions, today announced the acquisition of DreamSimplicity, the leading social site for software professionals, technology investors and SaaS enthusiasts to learn about the SaaS industry, share ideas and view thousands of original videos created by DreamSimplicity. The acquisition is a welcome compliment to Montclair's core product, the SaaS Top 250 Report, where the world's leading SaaS companies are identified and categorized by growth stage, geography and type. The report provides critical insight into the most significant SaaS companies for technology professionals and investors to make critical business decisions through industry insight.
DreamSimplicity.com is widely known for its large library of original video content including executive interviews, company profiles and product demonstrations. The site, including all its members, posts, business directories and videos will be transitioned to a new technology platform in the coming weeks which will provide enhanced features for users.
"We are very pleased Montclair showed significant interest and an appreciation for the community we built," said Matt Childs, CEO at DreamSimplicity. "Our members and the volumes of content submitted by our community are extremely valuable to anyone involved in SaaS. Montclair understands the significance of this material and intends on preserving, growing and expanding upon it."
"Matt and the DreamSimplicity team have created an incredible social community where all members share an interest in SaaS," said Kevin Dobbs, Managing Partner at Montclair Advisors.
"We are privileged to now be a part of this community and look forward to providing its members with more value by producing more video, adding in-depth analysis on SaaS companies and providing member access to the industry's thought leaders. We are committed to strengthening its reputation as the premier resource for all matters SaaS."
Membership to this SaaS social community is free. Montclair welcomes new members interested in SaaS, whether exploring the topic for the first time or currently working for companies with SaaS offerings. Organizations interested in engaging with our community members may contact us at info (at) montclairadvisors (dot) com.
Matt Childs and Kevin Dobbs video interview: http://www.youtube.com/watch?v=kiB-DuxACMU
About Montclair Advisors
Montclair Advisors provides Software-as-a-Service advisory services designed to help SaaS-based and non-SaaS-based software companies optimize their business models, improve revenues, control costs and deliver world-class software. Montclair develops the leading report on the top 250 SaaS companies globally and provides strategic analysis trusted by industry leaders. Located in Oakland, California, the Montclair team offers critical insights and SaaS-related solutions addressing products, revenues and strategy. The results allow software companies to improve competitiveness, revenue performance and profitability.
###
Media contact:
David Villarina, CMO, Montclair Advisors
+1-510-336-0019
david(dot)villarina(at)montclairadvisors(dot)com
© 2013 Montclair Advisors, LLC. Montclair Advisors and the Montclair Advisors logo are trademarks or registered trademarks of Montclair Advisors, LLC. All third-party product and company names are for identification purposes only and may be trademarks of their respective owners.