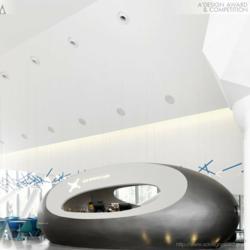 Como, Italy (PRWEB) February 13, 2013
A' Design Award and Competition is happy to share that the design project Aix Arome Cafe by Ajax Law Ling Kit & Virginia Lung from One Plus Partnership became winner of the notable Platinum A' Design Award in Interior Space and Exhibition Design Category elected as one of the best winners by the international referees of the A' Design Awards & Competitions among a great number of works.
Information regarding Aix Arome Cafe project
One Plus Partnership, the creative mind behind the winning work Aix Arome Cafe presented through huge egg shaped structure placed within middle of space that is simultaneously functioning as cashier and coffee supply. Iconic appearance of the booth is inspired by dark and dull looking coffee bean. Two big openings on top-front of both sides of so-called "bean" serve as good source of ventilation and natural light.
To learn more visit: http://www.adesignaward.com/design.php?ID=26098
The Platinum A' Design Award
The Platinum A' Design Award is a prestigious award given to top 1% designs that has accomplished an exemplary level of quality in design. The designs are judged by a panel of three different jury which is composed of Academic, Professional and Focus Group Members. The designs are evaluated with score normalization to remove any biases and are voted on aspects such as functionality, ergonomics, engineering, presentation, innovation, usability, fun details, technology, and any other specific points that could be considered, each of these points are further weighted for different jury groups.
About A' Design Award and Competition
A' Design Award and Competition, aims to highlight the excellent qualifications of best designs, design concepts and design oriented products. A' Design Award and Competition is organized and awarded annually and internationally in multiple categories to reach a wide, design-oriented audience. Learn more: http://www.whatisadesignaward.com