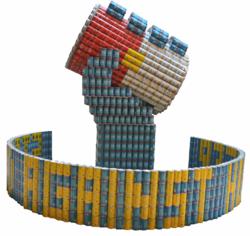 Portland, Ore (PRWEB) February 15, 2013
Celebrating two decades as one of the world's most imaginative food charities, the Canstruction® exhibition and competition will invite Oregon's top architecture, engineering, and design firms to transform more than 100,000 cans of food into whimsical, wildly inventive sculptures at Pioneer Place in downtown Portland from April 22 to 28, 2013.
An annual art show, design competition, and food drive all rolled into one, Canstruction® raises hunger awareness by challenging teams of architects and engineers to create larger-than-life pop art masterpieces made entirely out of unopened cans of food.
Axium, a leading developer of enterprise and business intelligence software for architectural and engineering (A/E) firms, will be the presenting sponsor for the Portland event.
While admission is free, visitors to the exhibition are encouraged to bring high quality non-perishable foods such as tuna, beans and canned vegetables, which will be donated along with the cans used in the competition to the Oregon Food Bank.
Portland is one of more than 150 cities around the world taking part in the international competition, which has donated more than 20 million pounds of food to local hunger programs since its founding in 1992.
The goal of the Portland event is to collect enough cans of food to donate the equivalent of 270,000 meals; one month of food for those seeking assistance from the Oregon Food Bank.
After the teams construct these elaborate structures, each structure will be judged by the Portland Canstruction® jury and awards will be given for Most Meals, People's Choice, Best Meal, Structural Ingenuity, Best Use of Labels, Juror's Favorite and Honorable Mention.
The structures will be on display and open to the public on both sides of Pioneer Place, located at 700 SW Fifth Avenue, Portland, OR, 97204. The exhibit will be open Monday through Saturday from 10:00 AM to 8:00 PM and Sunday from 11:00 AM to 6:00 PM.
This year's participating teams will be: Ankrom Moisan Architects, Arciform, BergerABAM, Catena Consulting Engineers, Degenkolb Engineers, Dull Olson Weekes – IBI Group Architects, Emerick Construction, Emerio Design, GBD Architects, Group Mackenzie, Holland Residential, Hoffman Construction, Interface Engineering, KPFF Consulting Engineers, New Seasons Market, Mayer/Reed, MulvannyG2 Architecture, Oh planning + design, architecture, R&H Construction, SRG Partnership and Turner Construction
Last year's event resulted in a donation of approximately 36,600 pounds of food and $31,390 to Oregon Food Bank. Since its inception in 1997, the Portland event has raised approximately 444,600 pounds of food and donated $147,490 to help fight hunger in Oregon and Southwest Washington. Nationally organized, Canstruction® is a 501(c) (3) charity committed to ending hunger. In 2013, Portland joins over 200 cities around the world participating in Canstruction®.
About Canstruction®: Canstruction® is the most unique food charity in the world. A foundation of the Society for Design Administration (SDA), Canstruction® is a design/build competition held in cities throughout the world. Each year teams of architects and engineers compete to build unique sculptures made entirely out of canned foods. Last year, similar Canstruction events were held in 75 cities across North America, resulting in over 2.2 million pounds of food being donated to aid in the fight against world hunger.
About the Oregon Food Bank: Oregon Food Bank distributed 43.5 million pounds of food statewide last year. In addition to the 270,000 people who eat from emergency food boxes per month, it distributes food to 16 regional food banks which, in turn, distributes food to 945 local agencies, such as food pantries, soup kitchens, shelters and more. Oregon Food Bank also works to eliminate the root causes of hunger through advocacy, nutrition education, community gardens and public education. Its mission is clear: "to eliminate hunger and its root cause because no one should be hungry."
About Axium, presenting sponsor for Cansturction®: Axium, a developer of ERP and business management software, provides business intelligence to more than 1,900 architecture and engineering firms and 60,000 users in the U.S. and Canada. Axium has offices in Portland, OR; Los Angeles, CA; Indianapolis, IN; and New York, NY.