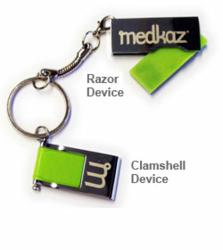 Employers giving a MedKaz to their employees is an easy, low cost way to stop the pain and suffering that result from doctors not having access to patient records when they need them, and to stop the hemorrhaging of healthcare and health insurance costs
Brownsville, VT (PRWEB) February 13, 2013
Millions of Americans receive their health insurance and participate in wellness programs as employee benefits paid for by their employers. Accordingly, Health Record Corporation (HRC) has launched a campaign to introduce its unique and revolutionary MedKaz personal health record system to employers to give their employees as a new health/wellness benefit. It solves a serious and costly problem for both, and its returns can be huge.
Doctors rarely have all the information about their patients that they need to provide quality, coordinated care. This frequently results in medical mistakes, considerable pain and suffering, lost work, and unnecessary tests – all of which are costly to both employees and employers. Various studies put the dollar costs at $100 billion to $330 billion per year.
MedKaz is the only system that solves this problem. It puts a patient's complete medical record in the hands of their doctor when and where they need it. It does so today -- simply, easily, inexpensively. The multi-billion dollar government program intended to solve it, can't today and isn't scheduled to solve it for several more years, if then.
MedKaz contains copies of a patient's medical records from all their providers, plus HRC's patented MedKaz application to manage them. They give it to their doctors anytime, anywhere they need care -- at home or away. Their doctors access it to avoid costly medical mistakes, unnecessary tests, and to coordinate their care; they update it after each visit.
Commenting on this new campaign, Merle Bushkin, HRC Founder and CEO, says; "Employers giving a MedKaz to their employees is an easy, low cost way to stop the pain and suffering that result from doctors not having access to patient records when they need them, and to stop the hemorrhaging of healthcare and health insurance costs.
"The confusion surrounding the enormous changes to healthcare coming under Obamacare has caused many people – including doctors, patients, employers, insurers, government personnel – to take a step back and say 'I'll wait until the dust settles.'
"We think that's a huge mistake. MedKaz can put an end today to medical errors, the pain and suffering they cause, and excessive costs. So why wait? It works with any record system today and will tomorrow, too. The benefits abound for both employees and employers! That's why we're urging employers to embrace it today.
"Employees certainly won't be sorry. They win big. For the first time, they'll enjoy peace of mind knowing their records are secure and immediately available to any care provider at home or away. And they'll enjoy better care, better health; fewer mistakes, tests, and sick days; lower costs, and they won't have to fill out same forms and answer same questions over and over!
"Employers won't be sorry either. They win big, too. Their employees will be happier and healthier; productivity will go up; absenteeism will go down; insurance claims will go down and their health insurance costs will go down. The cost of a MedKaz as a benefit is small; the ROI can be huge.
"We're looking forward to helping employers of all sizes in all industries adopt MedKaz as a new benefit. We're ready to design customized programs that meet each company's unique needs."
About MedKaz and HRC:
The patented MedKaz is a revolutionary system that puts the patient at the center of their care by aggregating their lifetime medical record in one place, owned and controlled by them, where care providers can access them as needed. MedKaz is the only system that accepts records in all formats from all sources, overcoming record incompatibility; is secure from Internet breaches, easy to use, affordable, and available now; and doesn't require government subsidies or the construction of extensive electronic networks to exchange records. It lives alongside care providers' systems, whether paper or electronic, and fits seamlessly into their established workflow, enabling improved quality and coordination of care, elimination of mistakes and unnecessary testing, and cost savings. Medkaz is a product of Health Record Corporation, based in Brownsville, VT.