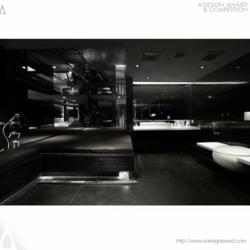 Como, Italy (PRWEB) February 13, 2013
A' Design Award and Competition informs that outstanding project of VIP Suite Aristocrat of Empire Hotel by AS Design Service Ltd. has been acknowledged with the famous Golden A' Design Award in Interior Space and Exhibition Design Category and selected as a best winner by the international arbiters of the A' Design Awards & Competition among a wide range of participants.
Insights on Aristocrat of Empire Hotel project
AS Design Service's designer demonstrates their idea based on a breakthrough from the traditional hotel room. Project design is inspired by people's constant demand to new innovations. The room represents the aristocratic style so that customers could indulge in the extravaganza "in the dark". Idea supported by using exquisite texture that create a deluxe hotel design label in a sense of elegance of a black since designers Four Lau and Sam Sum were seeking for representation of their interpretation of aristocracy.
Team Members for Aristocrat of Empire Hotel
Aristocrat of Empire Hotel was realized by Four Lau (Creative Director), Sam Sum (Art Director) and Twiggy Yau (Interior Designer)
The Golden A' Design Award
The Golden A' Design Award is a prestigious award given to top 3% percentile designs that has exhibited an exemplary level of perfection in design. The designs are judged by a panel of three different jury which is composed of Academic, Professional and Focus Group Members. The designs are evaluated with score normalization to remove any biases and are voted on aspects such as functionality, ergonomics, engineering, presentation, innovation, usability, fun details, technology, and any other specific points that could be considered, each of these points are further weighted for different jury groups.
About A' Design Award and Competitions
A' Design Award and Competition aims to highlight the excellent qualifications of best designs, design concepts and design oriented products. A' Design Award and Competition is organized and awarded annually and internationally in multiple categories to reach a wide, design-oriented audience. Learn more at: http://www.whatisadesignaward.com