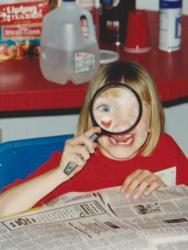 To maximize fun and learning, the trick is to find places or activities of interest and share the discovery with your kids or grandkids.
Tampa, Florida (PRWEB) February 14, 2013
School breaks and spring break family vacations provide the perfect chance to take a break, have fun, and share a learning experience with your children.
The Spring Break folder at theFamilyTravelFiles.com is loaded with ways to create and share unique learning experiences. From stargazing and living history to tide pool discoveries and animal encounters, the possibilities are endless. Trying something new in a new place may be just what everyone needs or returning to a favorite museum and a comfortable pastime may be even better.
"I have always looked at learning opportunities as an added family vacation value because learning together makes all the difference in how successful your children will be in their studies at school," according to Nancy Nelson-Duac, Editor of the popular family vacation planning website. She goes on to say, "The trick is to find places and activities of interest and share the discovery with your kids or grandkids."
The top 10 suggestions for exceptional family learning experiences include not just museums, aquariums and zoos but also energizing activities in nature.
1. Dallas: The Perot Museum - Dinosaurs, gigantic gems, and a leap frog forest.
2. Long Beach: Aquarium of the Pacific –Touch tanks and free Shark Lagoon Nights.
3. Oakland: Chabot Space and Science Center - Bill Nye's Climate Lab discoveries.
4. Atlanta: Fernbank – See "Extreme Mammals: The Biggest, Smallest, and Most Amazing".
5. West Virginia: Bridge walks and mountain biking.
6. Tennessee: Ziplining and rope antics in Gatlinburg.
7. Seattle: EMP –See outrageous outfits and rare concert footage of Jimmy Hendricks.
8. Space Coast: Kayak at the zoo and walk through the tree tops.
9. Virginia Beach: Virginia Aquarium & Marine Science Center – Boat excursions and behind the scenes encounters.
10. Orlando: Forever Florida - Treetop EcoSafaris and horseback adventures.
For more ideas browse through more than 300 spring break family vacation ideas which feature ways to combine family fun and learning.
About theFamilyTravelFiles.com. Founded in 1998, theFamilyTravelFiles.com is one of America's top-rated online family travel resources offering more than 1000 pages of timely family vacation ideas and trip planning information. The website specializes in displaying family vacation ideas, destination information for adults planning family vacations, advice about family trips, and family travel deals. To assist in narrowing searches, colorful vacation idea folders are visible throughout the website.
Lisa A Duac Publisher (813) 968-4799 or publisher(at)theFamilyTravelFiles(dot)com
Nancy Nelson-Duac (817) 573-6920 or editor(at)theFamilyTravelFiles(dot)com