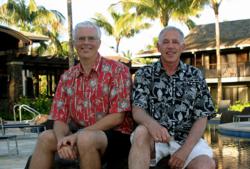 Finding Hawaii deals quickly is key to an economical Hawaii vacation in an environment of otherwise rising airfares. -- Jeff Tucker
Poipu Beach, Kauai, Hawaii (PRWEB) February 13, 2013
Seasonal Hawaii vacation deals for 2013 and strategies for cheap Hawaii airfare are featured on Beat of Hawaii. The popular Hawaii deal website started by two gray haired entrepreneurs on Kauai, has just celebrated its fifth anniversary with today's announcement and over 1 million page views last year. First to be notified of their Hawaii deals are the 30,000 daily subscribers who receive free email updates together with those on Facebook and Twitter.
The Hawaii travel report from Beat of Hawaii reveals that flying cheap requires off season travel and flexibility on day of week for the best Hawaii vacation deals.
According to Jeff Tucker at Beat of Hawaii, "the airlines adjust fares rapidly and are considered masters of supply and demand." Excess inventory has caused Alaska, Allegiant and Hawaiian Airlines to rethink their schedules and some are reducing flights according to Beat of Hawaii.
"We expect to see rising prices across the board for Hawaii travel. Therefore finding deals quickly when they do arise will be key to an otherwise elusive, economical Hawaii vacation," stated Tucker.
Now in its fifth year, Beat of Hawaii has been known for frequently being the first to post Hawaii travel deals including unpublished fares. They are currently tracking an increased demand for annual peak travel to the islands between June 7 and mid-August, and starting December 18 through early next year. More than ever before it becomes essential to book these peak Hawaii travel periods soon because demand appears to be exceeding supply as noted by Beat of Hawaii. After finding a deal on Beat of Hawaii, they recommend on-line booking directly with the airlines for the best price.
More detailed strategies for flying cheap can be found on the Beat of Hawaii report that offers advice for every travel season. They also mention a Hawaii car rental advisory during peak travel times. Tucker suggests you, "lock in a Hawaii car rental before purchasing airline tickets for summer and holidays. Otherwise, the cost for rentals may be excessive or cars may be unavailable."
New cheap Hawaii airfares could be coming when Southwest Airlines arrives in Hawaii, with the likelihood of Oakland as their Hawaii hub. Beat of Hawaii publishes Hawaii air deals and travel advice five times weekly on their popular site which first caught the attention of renowned travel writer, Arthur Frommer.
About Beat of Hawaii
Founded by Kauai residents Rob Kvidt and Jeff Tucker in 2008, Beat of Hawaii was featured in the book, "Ask Arthur Frommer." Beat of Hawaii has appeared repeatedly in national and international press including USAToday. Their frequent updates continue to track Hawaii air deals, industry news and Hawaii tips. More information is available on their website.