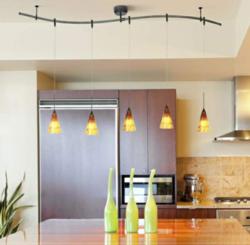 In kitchen lighting, think form first and function second.
Los Angeles, CA (PRWEB) February 14, 2013
The heart of the home, the kitchen is often the prime target for home improvement and lighting makeovers. As the last of the winter storms recede and spring nears, people are starting to gear up for these projects. Lamps Plus, the nation's largest lighting retailer has identified the top five kitchen lighting trends for spring 2013, culled from customer favorites and the latest looks from home furnishing trade shows.
"In lighting the kitchen, people these days are thinking function first, form second. You want to meet the needs of your space, but in way that's stylish and personal," explains Manja Swanson, Vice President and Designer at Lamps Plus. "We recently published our 2013 Kitchen and Bathroom Lighting catalog in an effort to highlight the designs that are trending most among our customers and the design community at large."
"Sustainability is definitely a hot topic among customers, and when it comes to conserving energy and landfills, LED lighting is tops," explains Swanson. Using just a fraction of the electricity of incandescent bulbs and with a lifespan as much as fifty times longer, LED lighting points towards an ultra-green future for the lighting industry.
Stylish and multi-functional, the hanging pendant light is the definitive aesthetic trend for the foreseeable future. "Mini pendant lights are most popular of all," explains Swanson. "They can be hung in a row over bars or islands, bunched or clustered for a contemporary DIY chandelier, or mixed and matched for a playful eclectic look." Industrial pendant light fixtures and vintage Edison bulbs in particular are a popular style for converted lofts, as well as commercial spaces like bars and restaurants. With a variety of finishes, from sleek brushed steel to art glass, pendant designs can express the unique personalities of the homemakers, or businesses, who use them.
"The most effective upgrades are often those a person can't even see," says Swanson. "Under cabinet lights provide both ambient and task for lighting countertops." Available in a variety of bulb types, under cabinet lighting tucks discretely to the underside of kitchen cabinets and can be chained together to meet any room size or configuration. "For an easy-to-install under cabinet option, our customers are increasingly using tape lights and puck lights. These designs adapt to fit most spaces, adhere to your cabinets with tape or screw mount bracket, and are easy to power without the help of an electrician."
Track lighting is the multi-tasking workhorse among lighting fixtures. "The kitchen has become more than a place to prepare meals. It's a place where kids study, families dine, and, as is often the case, the party inevitably migrates. Track lighting has been very popular, available in a range of fresh new designs." The light heads on these versatile fixtures can be moved up and down along a track and adjusted to spot light particular locations such as food prep areas, shelves or photos and artwork. An offshoot of the track style, the track lighting kit is an easy-to-install fixture that mounts easily onto a ceiling junction box, just like an overhead ceiling light. Unlike traditional track lighting, the heads on these kits cannot be moved up and down along the length of the fixture.
Lastly, for specific work areas such as the sink or stovetop, recessed lights are a perennial favorite. Tucked discreetly into the ceiling, these fixtures consist of a housing that installs into the ceiling, a trim, and a light bulb. Recessed lighting comes with a variety of bulb options to address a kitchen's specific needs, such as for sink and counter areas and adjustable, focused lights for stovetops and wall art. Recessed lighting can also be used in conjunction with a wall dimmer, making them an excellent ambient lighting source as well.
ABOUT LAMPS PLUS
For more than 30 years, Lamps Plus has been synonymous with excellence in the retail lighting industry. Established in 1976, Lamps Plus is the nation's largest lighting retailer, with more than 40 lighting stores throughout the western United States. Together with their retail locations and online business, Lamps Plus serves customers nationwide with the largest selection of functional and decorative lighting fixtures, accessories, furniture and home decor. This selection includes hundreds of products, ranging from traditional chandeliers to the latest in home decor, available exclusively from Lamps Plus. Services include in-home lighting consultations, in-store workshops and installation from expert, licensed electricians. American Lighting Association certified designers are available to offer product recommendations and advice in all our stores, by phone or online at LampsPlus.com. The Lamps Plus family of websites also includes 55 Downing Street, Lighting Luxury Style, Builders Discount Lighting, and Lamps Plus Open Box.