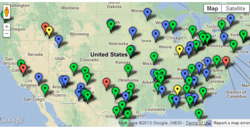 San Diego, CA (PRWEB) February 25, 2013
Scores of news articles and entertainment pieces have been written about the highest earning U.S. regions and zip codes. Featured in blog posts, magazine articles, and morning television segments, the public likes to look into the world of the wealthy.
With an over-saturation of this topic, it was time to look at zip codes and earnings with a fresh viewpoint. Social media website Mylife.com has researched and published a new article that looks at earnings by zip code from a new perspective – examining the lowest earning zip codes in the United States.
Average earnings of specific areas greatly affect all aspects of a community, including: the real estate values, money allocated to schools, extent of government projects, and attraction of local businesses. Desirable areas with higher average incomes get media attention, new people moving in, and a wider variety of services.
But what about areas with lower incomes? These often ignored regions of the U.S. are filled with equally hardworking people who live full lives - even with a large percentage of the community living below the poverty line. The illuminating MyLife.com article lists the 100 zip codes with the lowest average income. Visually depicting these 100 zip codes on Google maps, one can clearly see vast regions of the U.S. that struggle with money, availability of services, and daily living. The article provides a detailed chart including the 100 lowest earning zip codes, their correlating city names, the population of each city, and the average annual income.
Highlighting the three lowest earning zip codes, the MyLife.com article presents detailed community statistics and information about these three towns. Though sharing surprising details about earnings, crime, and widespread poverty, the article also features uplifting stories of the common human experience. Sharing a message that "positivity is a state of mind", the investigation of low-income zip codes found countless stories of personal achievement, community successes, and happiness.
The MyLife.com blog is a refreshing article that takes an alternative look at earnings by zip code and can be found at http://www.mylife.com/blog/lowest-us-incomes-by-zip-codes/.
About MyLife.com
In a world that is increasingly dependent on social media, MyLife.com is a social media site like no other. With over 60 million users, and quickly growing, Mylife.com is able to provide its users with more than 700 million connections. Combining and organizing professional and personal connections, MyLife.com is revolutionizing social media.
First, MyLife.com is an organizational site, allowing its users to view their entire online identity in one spot. All online profiles and e-mail addresses can be viewed from one convenient MyLife dashboard. MyLife users no longer need to visit multiple social websites and e-mail accounts multiple times per day. All of their information is organized together in one place, saving a great deal of time.
Second, MyLife.com is a powerful social searching site. With the ability to search for people by name, as well as by zip code and area code, MyLife.com is able to find connections to people that other sites cannot. The addition of the zip code and area code search allows for business opportunities within specific areas, as well as for finding people for whom one has limited information about.
MyLife understands that people use social media to connect to loved ones and friends, as well as for business and professional networks. A personal relationship management system conveniently separates all contacts into each identified category.
An expanding and unique social media website, MyLife.com is bringing connection and convenience to a higher level.
For more information about MyLife please visit http://www.mylife.com.