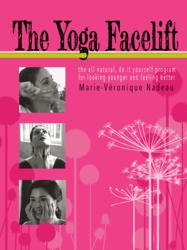 Good skin care is more than skin deep
Pasadena, CA (PRWEB) February 13, 2013
The long-awaited second edition of The Yoga Facelift is now available in all e-book formats from Bitingduck Press, beginning February 13, 2013. Originally published in print in 2007, the book spent over six weeks as Amazon's top seller in the skin care category. The new edition's electronic formatting is a distinct improvement over print versions when it comes to explaining exercise routines, and in particular when presenting facial exercises. The pictures are clear and sharp, and an e-book is easy to prop up for better access to visual cues while practicing the yoga moves.
The second edition also contains updated material on new frontiers in anti-aging. The latest information on topical peptides, marine biopeptides and holistic approaches to skin care reflects author Marie Nadeau's work as founder and formulator for Marie Veronique Organics, the skin care company that specializes in natural products.
Nadeau asserts that good skin care is more than skin deep. While diet, exercise and sun protection play predominant roles in maintaining healthy, beautiful skin, even our best efforts will fail to stop the clock entirely. As women move into their 30s and 40s, they will start to notice the appearance of lines and sagging. When these signs of aging appear, the conventional, 'fighting nature tooth and claw' approach has been to reach for a syringe full of Botox.
The Yoga facelift program goes at the twin problems of lines and sagging from an angle that differs radically from conventional approaches. As with other yoga practices, it focuses on substituting postures acquired over years of stress with postures that energize the body and increase one's sense of well-being. The concept of reinvigorating mind and body through yoga poses has just as much applicability to the 109 muscles of the face and neck as it does to the rest of the body. Indeed, some of the facial poses will end up having a profound effect on how the practitioner looks and feels. Problem areas, such as frown lines, puffy eyes, the neck and jawline get special attention beyond the full exercise series, and a "quick lift" gets results for those who have only a few minutes each day to spend on exercise.The book is available on the publisher's website and all major distributors, beginning with Amazon.
The Yoga Facelift may also be purchased at the Marie-Veronique Organics store in Mill Valley, California, through the patent-pending WebBytez e-book sales technology. Partnerships with other local stores are in progress, so the book will soon be available at several outlets, including yoga studios.
This is the first health and beauty title from independent L.A. publisher Bitingduck Press, which specializes in fiction and non-fiction by, for, and about scientists and health practitioners. Submissions are encouraged in all genres through the publisher's website.