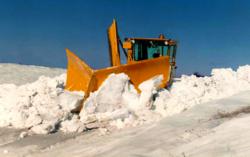 It is a privilege to partner with a company that maintains a strong commitment to the importance of innovation, quality products, and safety.
Sioux City, Iowa (PRWEB) February 13, 2013
In a time when massive winter blizzards are sweeping across North America, Radius Steel Fabrication - SOO Tractor, a leader in supplying industries with the highest quality fabricated steel equipment, announced that it has entered into an agreement with Weldco Beales Manufacturing of Canada to manufacture their popular 12-foot snow removal blades. Weldco Beales designs and manufactures specialized heavy equipment attachments for OEM's dedicated to servicing the construction, resource, forestry, mining, scrap recycling, and road maintenance industries. Ida Covi, CEO of Radius Steel, says, "It is a privilege to partner with a company that maintains a strong commitment to the importance of innovation, quality products, and safety. Manufacturing precision happens when quality-driven companies partner together."
Winter creates all kinds of challenges and sets the stage for one of Weldco Beales' strongest product lines – the snow removal products. Weldco has been supplying snow related products for several decades to dealers who equip municipalities, cities, towns, and private sectors. While motor grader mounted snow wings and V-plows are prevalent throughout the central and western parts of the continent, wheel loader mounted units are more likely to be seen along the east coast regions.
Snow removal agencies and departments typically maintain an entire fleet of road maintenance equipment. Weldco-Beales comprehensive product line ensures that the right attachment meets their specific applications: V-plows for heavy snow, ramp hogs to clear airport runways, masted and mastless snow wings for highways and freeways, and snow blades with integrated trip moldboards to support a wide variety of general road cleaning applications.
Enzo Borrelli, VP of Manufacturing for Weldco, attributes, "Weldco Beales is committed to invest in innovation that will improve our products' quality and performance. Equally important, we are concerned about safety, which is why we place safe practices at the top of our priorities with both our manufacturing facilities and in the products we manufacture. We take great pride in assisting our customers' efforts to keep our roads safe and well-maintained so we can all get home safely at the end of the day."
About Weldco-Beales Manufacturing (WBM):
Weldco-Beales Manufacturing is a market leader that designs and manufactures specialized, high-quality heavy equipment attachments dedicated to servicing the construction resource, forestry, mining, scrap recycling, and road maintenance industries. A top 600 Canadian company, Weldco-Beales, is the largest supplier of heavy equipment attachments in Canada and has been part of the NorTerra Group of Companies since 1998. Their clients include Finning Canada, Caterpillar Work Tools, SMS Canada, Strongco, Wajax, Brandt, Parker Pacific, Rocky Mountain Equipment, Airport Equipment, and Yukon Equipment. These companies are recognized dealers for Caterpillar, Komatsu, Volvo, Hitachi, Tiger Cat, John Deere, and Case.
Weldco-Beales Manufacturing's four product divisions include:
The Mining Division, offering tire manipulators, cable reelers, ejector boxes, ejector beds, large capacity excavator buckets, and coal and reclamation dozer blades
The Forestry Division, offering butt-n-top grapples, clam grapples, operator cab guarding, and forestry cab conversions
The Oil & Gas Division, offering pipe grapples, roll over protection structures / ROPS, mat grapples, and pipe line spades
The Road Maintenance Division, offering grader snow wings (masted and mastless), grader vee plows, ice scarifiers, and snow-brooms
For more information on the complete range of products and services provided by Weldco-Beales Manufacturing or to learn what they can do for you, please visit: http://www.Weldco-Beales.com
About Radius Steel – SOO Tractor:
Radius Steel Fabrication - SOO Tractor is an established and leading steel fabrication company in the United States producing exceptional products for a range of classic brands, amongst them, Massey Ferguson, AGCO, Hesston, Challenger, Weldco-Beales, Wil-Rich, Willmar, SmithCo / Side-Dump, and Silent Drive.
Radius Steel Fabrication - SOO Tractor was established in 1941 to meet the needs of the agricultural machinery industry and has become renowned for the quality of its customized steel fabrication; setting new standards of environmental protection and exceeding the requirements of its clients and partners. We are proud of our ISO 9001, CWB 47.1 Welding certifications, and in the satisfaction of our customers.... we have a warranty rate of 6/10th of 1%.
Radius Steel Fabrication – SOO Tractor's tradition of excellence provides customized fabrication integrated with electronics and cutting-edge technology to an expanding range of industries - amongst them, Telecommunications, Military/Defense, Heavy Equipment/Construction, Refuse, and Oil and Gas.
For more than 70 years of service, Radius Steel Fabrication - SOO Tractor's core values are strong: We believe in providing exceptional quality; we believe in the value of "American manufacturing"; we believe in being the best at what we do."