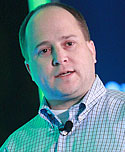 Gaithersburg, MD (PRWEB) February 13, 2013
GXS, a leading provider of B2B integration services, today announced a new on-demand webinar on upgrading and modernizing B2B integration strategies featuring Benoit Lheureux of Gartner, a leading analyst firm, and GXS's Steve Keifer. The session, "A Call to Action: Upgrading and Modernizing Your B2B Integration Strategy," is now available to view.
With many companies still running aging B2B infrastructures, it becomes more time intensive, complicated and costly to manage today's IT environment. With the impact on IT roles, challenges, key initiatives, collaboration applications and cloud computing, Gartner Research concluded that organizations will spend 33% more on application integration in 2016 than in 2013. However, coordinating IT innovation to modernize these systems with new business mandates has created tension in the IT organization among CIOs, Enterprise Architects and other key decision makers.
Benoit Lheureux and Steve Keifer discuss key B2B integration challenges and business trends that are driving CIOs, IT leaders and technical professionals to modernize B2B environments. Lhereux will offer insights and advice on modernizing both your B2B infrastructure and strategy as well as how to choose the B2B integration solution that best suits your needs. Keifer will examine the five items organizations should consider before modernizing or upgrading their current B2B platform.
Click here to watch for the webinar.
About GXS:
GXS is a leading B2B integration services provider and operates the world's largest integration cloud, GXS Trading Grid®. Our software and services help more than 550,000 businesses, including 22 of the top 25 supply chains, extend their partner networks, automate receiving processes, manage electronic payments, and improve supply chain visibility. GXS Managed Services, our unique approach to improving B2B integration operations, combines GXS Trading Grid® with our process orchestration services and global team to manage a company's multi-enterprise processes. Based in Gaithersburg, Maryland, GXS has direct operations in 20 countries, employing more than 2,400 professionals. To learn more, see http://www.gxs.com, read our blog at http://www.gxsblogs.com and follow us on Twitter at http://twitter.com/gxs.You can also access our public filings with the Securities and Exchange Commission at http://www.sec.gov/edgar.shtml.
FORWARD-LOOKING STATEMENTS
This press release may contain "forward-looking statements." All statements, other than statements of historical facts that address activities, events or developments that the company expects, believes or anticipates will or may occur in the future are forward-looking statements. These forward-looking statements are affected by risks, uncertainties and assumptions, including but not limited to those set forth in the company's public filings with the Securities and Exchange Commission, including its Annual Report on Form 10-K and its Quarterly Reports on Form 10-Q. Accordingly, actual results or outcomes may differ materially from those expressed in the forward-looking statements. You should not place undue reliance on these statements and the company undertakes no obligation to update or revise any forward-looking statements to reflect events or circumstances that may arise.
All products and services mentioned are trademarks of their respective companies.