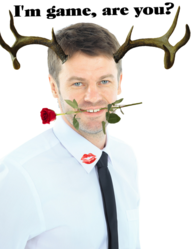 Belfast, ME (PRWEB) February 13, 2013
Valentine's Day is easier for couples, new parents and pet lovers thanks to new apps from developers Cat Game Apps, LLC and Angelsong Creations, LLC.
For romance on a budget, mobile app Romeo to Go provides portable candlelight, firelight, mood music and romantic ideas. "As a busy married couple ourselves, we know that romance has to be easy and fun," says developer Tim Wilson. "With Romeo to Go you can have firelight and music in a field, in a car, in a restaurant, or any place the mood strikes you." The included conversation starters ensure a great date whether users are with a long time partner or a new flame.
For new parents, Baby Holidays is a great app for making Valentine's Day photos of the family or the baby. Baby Holidays includes folders of items for the main holidays including Valentine's Day. Valentine's items include jewels, crowns, roses, and chocolates. Another app to consider is Mustache Me. With over 150 items including top hats, mustaches, kisses, and banners with sayings like "I mustache you…will you be my Valentine?", Mustache Me is the perfect way to make a fun valentine image or card.
For more mature and adventurous Valentine's, the Horndog photo app supports users in expressing their intimate desires by adding horns, flames, roses, kisses, and banners like "Why don't you come up and see my sometime?" to photos.
Finally, pet lovers can dress their pets using any of the photo apps above or using the Pet Holidays specialty app which includes heart shaped glasses, bow ties, hats and other items to dress your pet in style for Valentine's Day. The app works on hard to dress pets like fish, reptiles, and rodents as well as on dogs and cats.
These apps all work the same. They make it easy to add items to pictures. Users choose items from the folders in the apps and adjust the size and position of the accessories using their fingers. To add words like Happy Valentine's Day, there is a text bubble tool. There's also a drawing tool to add hearts and draw arrows.
When the photo is complete, the apps make it easy to save the image to the mobile device, email it to a friend, share it on Facebook, Instagram or Twitter, post it as a meme to Pinterest or use it as an avatar or profile photo. Users can also upload the photo to Shutterfly to make personalized gifts, cards, invitations or calendars.
These apps are available for both Apple and Android users from the leading etailers. For more information on these apps and more go to http://catgameapps.com/.