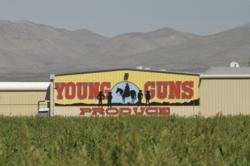 You will not find a more superior growing and packing operation in New Mexico.
(PRWEB) February 14, 2013
Young Guns Produce, Inc., one of the largest suppliers of authentic Hatch green chile, has expanded and updated its onion packing facility under the brand of Billy the Kid in Deming, New Mexico.
"This new venture was first thought of because we felt the need to modernize our facility and equipment with an emphasis on food safety," says Chris Franzoy, President of Young Guns Produce, Inc. "We can now pack for any type of customer in retail and food service. Plus, our company complies with GFSI (Global Food Safety Initiative) certification scoring a 97% on the last food safety audit and our farms are certified as well."
Their expansion and updating include the addition of 80,000 square feet of space to their warehouse (raising it to 110,000 square feet total). Also, they have introduced and installed new onion packing equipment in this facility.
According to Franzoy, the equipment "has helped us pack (onions) more efficiently and precisely. The new equipment will allow us to pack up to 90,000 pounds per hour. Because the system is automated it doesn't tire and it eliminates error, producing a safer product. And, lot numbers can be uploaded in a flash allowing for accurate traceability on each package."
Finally, Young Guns Produce, Inc. has also changed how they harvest and dry their onions grown at their Deming facility.
Unlike previous methods of harvesting that loaded onions into bags and then left them in the field to dry, they now harvest by hand into plastic Macro bins, and then haul those bins by truck to the packing shed. Once at the shed the bins are unloaded, the onions are inspected and then placed into a curing room, where they are dried to the desired state.
Franzoy says that this new method "has improved the quality and safety of our onions. You will not find a more superior growing and packing operation in New Mexico."
About Young Guns Produce, Inc.
Young Guns Produce, Inc. is located in Hatch, New Mexico (also known as, "The Chile Capital of The World"). The corporation was established in February of 1992. The principal owners are Chris and Tammy Franzoy.
Young Guns Produce began its focus on marketing produce grown in Hatch, New Mexico with the idea of supporting the community and delivering great food to the consumer. Chris has always headed up the sales department, and has been at the desk for over 25 years.
The company has evolved into one of the largest suppliers of onions and fresh Hatch Green Chile, pumpkins, and New Mexico Pinto Beans in the Hatch Valley. The newest addition to our Hatch produce is our Frozen Hatch Green Chile.
For more information go online at http://www.younggunsproduce.com or call 1-575-267-3001.