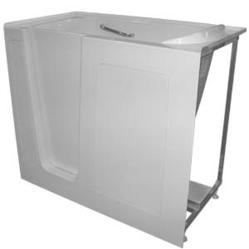 It is our hope this new blog will help educate our customers on walk in bathtubs and roll in shower systems.
Denver, CO (PRWEB) February 13, 2013
Aging Safely Baths & More, a supplier and distributor of senior bathtubs, officially announces its new walk in bathtubs blog, which will supply customers with in-depth information about tubs and roll shower systems that are specially designed for seniors and individuals with restricted mobility. Aging Safely is committed to educating customers about walk in tub products, so they can make informed decisions about their purchases.
Company CEO, Zach Wennstedt, said, "Many customers have not previously purchased a walk in tub, walk in hydrotherapy bathtub, transfer bath or safe bathing fixture. They may be uncertain about the benefits of walk in bathtubs or which features and products can be most beneficial for their personal situations. The new blog will provide up-to-date information about senior bathtubs that they can browse at their leisure."
The blogs will be conveniently categorized, so customers can easily locate specific information about walk in bathtubs and wheelchair accessible walk in bathrooms. Customers will have the option to learn information from sales staff or by browsing the FAQ page when they want to expand their knowledge. Blog articles can be viewed 24 hours a day, so the information is always accessible around visitors' schedules.
According to Aging Safely, their sales staff will respond to questions quickly. Browsing the blog may provide instantaneous answers to questions about senior bathtubs and handicap accessible showers without posing questions to sales staff. Reading a blog can often help customers formulate more specific questions about walk in bathtubs and roll in shower stalls.
In addition to educating customers about walk in bathtubs and roll in shower systems, the new blog will also explain the benefits of hydrotherapy, which is pressurized water massage that can potentially reduce inflammation and tension while facilitating blood circulation. Customers considering a hydrotherapy bathtub may not be aware that there are different types of jets, and each provides a unique type of massage sensation. Depending on the brand and model of hydrotherapy walk in tub, customers can choose jets that provide a firm sensation, a gentle sensation or a combination of two types of jets.
Blog information may also assist patrons in deciding whether to purchase a walk in tub or walk in shower. Senior bathtubs and handicap accessible showers have many of the same safety features, such as non-skid floors, grab bars, low ledges and movable nozzles. Nevertheless, there are unique benefits and features the walks in bathtubs possess that may make one more appealing for particular customers.
Aging Safely will also invite readers and customers to post comments about the walk in bathtubs blog. This will help Aging Safely create blog posts that address customers' interests and provide useful, reliable information about walk in tubs and senior bathtubs.
Contact Information:
Zach Wennstedt
1-888-779-BATH(2284)
info(at)agingsafelybaths(dot)com