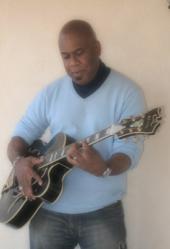 "Music is a Reflection of Life"
Jacques Lesure
Los Angeles, California (PRWEB) February 14, 2013
The Southern California jazz scene is not by any means absent. There are a myriad of places that "feature" jazz on a regular or semi-regular basis. Detroit native and seasoned jazz guitarist Jacques Lesure feels there is a definite lack of "user-friendly" jazz venues in Los Angeles. He compares the "vibe" to venues back East. Places where jazz fans mingle, socialize and network in a comfortable, unpretentious environment.
Venues that have a natural flow and ambiance in Mr. Lesure's opinion, there is a serious shortage of the above mentioned in Los Angeles. He has established some fine jam sessions in the city, including a weekly affair at The Barbara Morrison Performing Arts Center in historic Leimert Park. However, he has turned his focus to downtown Los Angeles.
On Friday, February 15, 2013, Mr. Lesure will launch "Jazz at The House Of Spades". This event is geared toward the true jazz aficionado. The music will be "straight ahead" and the ambiance hip.
The House of Spades is truly a best kept secret of downtown Los Angeles venues. Just south of the Jewelry District, the House of Spades has three balconies overlooking the luminous downtown skyline. Come and experience the House of Spades where the finest in straight-ahead Jazz lives. This Friday, February 15, 2013, the House presents a Jazz series like none other, featuring Jacques Lesure, the Music Director for this series. The time has come to provide quality music in an atmosphere deserving of its sound. Doors open at 7:00pm. For ticket information go to http://www.penthousela.com or call (310) 692-4003.
Jacques Lesure …"Music is a Reflection of Life"
Jacques Lesure provides musical entertainment, enrichment and education through, live performances, individual and group lessons, lectures, and music clinics. A resident of Los Angeles, CA, Mr. Lesure is eager to give back to the community and expose today's youth to the rich history of Black American Music, especially Jazz, while keeping the adults grooving to his amazing sound.
With a degree in Jazz Performance, Jacques teaches and presents all over the United States. Originally from Detroit, Mr. Lesure has performed with many of the greatest artists in music: Kenny Burrell , Oscar Brown Jr., Jimmy Smith, Stanley Turrentine, Freddy Cole, Wynton Marsalis, George Benson, Jack McDuff, Les McCann, Carmen Lundy ,Oliver Lake, and many others. He has collaborated in the creation of and performed in a variety of stage plays, movie scores and special projects made for television. Jacques Lesure is the Musical Director for The Living Legends Foundation, an organization who honors legends in Jazz who are still living and the Healing Arts Jazz Society.