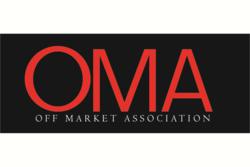 [The] gap between commercial markets and the off market could contract as the commercial real estate markets heat up.
San Francisco, CA (PRWEB) February 28, 2013
Real estate is important to the economy and its potential growth. While we may not have the ability to see into the future, it is possible to make some educated guesses based on what you can see around you, and that is exactly what the Off Market Association executives, led by CEO Terry Robinson, has done. The following predictions for 2013 are:

Look for interest rates to rise. With rates at historic lows and the Federal Reserve beginning to hint at the possibility of easing to stop it is likely that we will see interest rates begin to edge up in 2013. Many economists and CRE industry experts agree. With the possibility of rates increasing by a full point by the end of 2013, now is the to capitalize on current deals.
Commercial real estate prices will continue to rise, after falling in many areas and in many sectors. Increases are sector dependent, but there's no doubt that commercial real estate is making a comeback and prices are going to rise as demand outstrips supply. A lack of new construction over the past 5 years means there is no alternate outlet for this demand. We foresee decreasing vacancy rates and increasing rents in 2013, leading to better yields.
International investors will become increasingly active. Europe is still in a mess, so the logical place for foreign investors to look is in the U.S., where prices are still depressed, but activity is heating up. New York, San Francisco and Washington D.C. have already seen foreign investment increasing. Cities tied to energy and tech are also targets. With a weak U.S. Dollar international investors are able to pay more (relatively speaking) for properties which should provide additional upside in first tier and select second tier markets.
" Off market assets are often priced competitively as sellers are motivated to complete a quick sale. This gap between commercial markets and the off market could contract as the commercial real estate markets heat up, making now the perfect time to take advantage of off market deals," said Terry Robinson, president of the Off Market Association.
About The Off Market Association
The world is changing and has changed. Old ways of doing business don't always apply. The Off Market Association (OMA) brings a new, exciting and visionary way to do business to all our members.
OMA uses a cutting edge technology and platforms, a deal desk, and extensive contacts across the US for commercial real estate transactions, bank note sales, small business advising and SBA loan services. The OMA is affiliated with Sunovis Financial and Genesis Capital to provide investors with access to capital and quick financing.