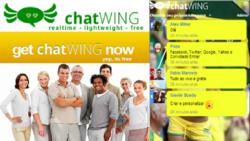 New York, NY (PRWEB) February 14, 2013
Chatwing.com, an online company that excels in creating and marketing widgets, has recently launched a new chat widget aimed at Brazilian blogs and websites. The recent application has helpful features, such as social media integration, background image setup, flexible admin function, and MP3 song link setup. The aim of the chat app is to provide an entertaining communication experience for various web users.
The researchers of Chatwing have observed that Brazilian website owners commonly discuss things that are related to their culture. Other Brazilian bloggers are also discussing ways on how to preserve nature, empower spiritualism, offer tech tips and tricks, and even share some information about new business venture ideas.
Chatwing's simple chat box can be installed in just seconds. After registration in the home page, the user can proceed to the account dashboard right away. There is no need for confirmation in the email address. In the dashboard, the user can set up the colors, sizes, background images, and other parameters of the chatroom tool. The user can even select from the chatroom's three style factors—it all depends on his preferences.
The Chatwing application is versatile enough to be used in hundreds of niches globally. Since the chatroom tool is all about better communication, every web user and blogger can benefit from it. According to the developers of the chatbox, they are planning to put more upgrades in the coming months. The upgrades will improve the overall efficiency of the chat tool.
About Chatwing.com
Chatwing.com specializes in the new field of website chat. Over years, the development team has introduced live chat widget for hundreds and thousands of blogs. The application bridges people from many parts of the world, creating global synergy through the Internet. The shout box can be installed in just seconds, and it can be used for varying purposes such as leisure and Internet marketing. It also allows a user to customize the size, color, and name of the widget.