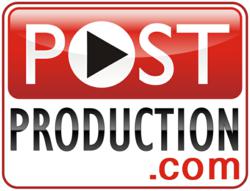 Someone may have never heard of our website, but with a name like Postproduction.com, they'll find it if they're looking for anything having to do with post production.
Los Angeles, Ca (PRWEB) February 13, 2013
Postproduction.com, launching Feb 14th is a resource and directory created to be the online destination for all things post production.
Noland Anderson, Head of Business Development for Postproduction.com says, "We found that post production professionals struggled to discover cost effective places to advertise and be seen that were easy to find, and focused on their industry. We wanted to provide a website that would bring the entire post production community together under one banner. Providing them with a resource they could use on a day to day basis, to make their jobs easier, sharpen their skills, and help them get found by the people who are looking for the exact service, or product they offer. Someone may have never heard of our website, but with a name like Postproduction.com, they'll find it if they're looking for anything having to do with post production."
The site contains blogs, gear reviews and tutorials that are community contributed and cover entry-level to advanced topics, benefiting everyone from the post production newbie, to the seasoned post veteran. Individuals looking for work in the post production industry can post resumes, upload reels, get listed or peruse job classifieds.
Who will be found in the directories?
Part of the magic of the site is a search engine that lets one drill down through several filters, enabling users to get focused results, so someone can easily find exactly what they're looking for. "This is great for businesses and people listed in our directory because it makes calls coming from our directory very focused and productive.", said Anderson. The directories on the site range across the gambit of post service providers, gear manufacturers, rental providers and resellers, voice over, music talent, music libraries, schools, and just about anything you can think of related to post production.
How do they generate revenue?
"Advertisement on the site is geared to everyone from the small merchant to the large studios, and is affordable enough that, with what you might pay for one ad elsewhere, you could probably buy about ten on our site. This allows you to spread yourself across the site, in all the places you want to be seen, to maximize exposure to your target audience", stated Anderson.
Anderson went on to say, "We've tried to build a clean, easy to use site. We've also tried to build it in a way that will allow the users to generate and share information and are excited to hand it over to the post production community and watch them populate and grow it into what it was designed to be…For All Things Post Production!"
Postproduction.com is launching Feb 14th and is offering a complimentary listing on their site. All one has to do is simply go to Postproduction.com , fill out a form, and they'll be invited to create their own complimentary listing the day of the launch.
To learn more about this launch, please contact
Noland Anderson, Head of Business Development
800.767.8806
noland(at)postproduction(dot)com
About Postproduction.com
Postproduction.com is an online resource and directory for all things post production. Our mission is to make it simple and easy to connect with anyone or anything that has to do with the post production community. Postproduction.com is a privately held company and is headquartered in Los Angeles, Ca. visit Postproduction.com for more information.