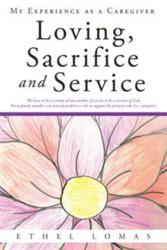 Lomas believes her message of sacrifice and caring is important, "perhaps more important than ever," she says, "since we are living in a fast-paced society where everything is driven by material wealth, fame and fortune."
PRICHARD, Ala. (PRWEB) February 15, 2013
Ethel Lomas has learned a lot about herself and her beliefs during her years as a caregiver. In her new book "Loving, Sacrifice and Service: My Experience as a Caregiver" (published by CrossBooks) she takes readers through her conclusions, using the example of caregiving to explore the nature of human nature and families.
Lomas hopes, through her writing, to challenge readers to find their purpose in every phase throughout the cycle of life. Interwoven throughout the book are themes of loving, sacrifice and service, balanced against the adversities of acting as a caregiver for one's family.
An excerpt from "Loving, Sacrifice and Service":
"For others, there may be other options available; but whatever our situation maybe, we are bound as part of our purpose in life in God's universe to be responsible for one another, especially the elderly. Although I wrote this book from a caregiver's perspective, I believe the principles of God's word are universal in all endeavors of our lives. All of us can ask ourselves these questions: Did I serve others; did I face my adversities or choose to run from them?"
Lomas believes her message of sacrifice and caring is important, "perhaps more important than ever," she says, "since we are living in a fast-paced society where everything is driven by material wealth, fame and fortune."
"Loving, Sacrifice and Service"
By Ethel Lomas
Softcover | 6 x 9 in | 68 pages | ISBN 9781462724031
E-Book | 68 pages | ISBN 9781462724048
Available at Amazon and Barnes & Noble
About the Author
As an advocate for the disenfranchised, Ethel Lomas championed the cause in the workplace and later became a part of a grassroots organization to help initiate legislation later passed in the state government. She also organized and led a neighborhood watch group that played a key role in curtailing crime in the area.
CrossBooks, a division of LifeWay Christian Resources of the Southern Baptist Convention, is a Christian publishing imprint committed to bringing more Christian voices into the publishing industry. Established authors, first-time authors, and authors anywhere in between can meet their goals and fulfill their vision for their books by publishing with CrossBooks. CrossBooks' innovative style of publishing blends the best of traditional and self-publishing. While our authors contribute monetarily to cover the cost of publishing, we maintain a strict moral and quality standard that every manuscript must meet for us to publish. For more information on publishing your Christian book with CrossBooks, log on to crossbooks.com or call 1-866-879-0502.