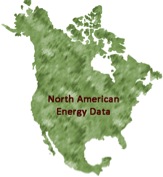 North American power data which is often unpublished elsewhere
North America, USA, Mexico, Bermuda, Canada, US, (PRWEB UK) 14 February 2013
Companies and governments looking for Canadian, Mexican, Bermudian or US energy data will now breath a sigh of relief, as they no longer have to trawl hundreds of resources looking for North American energy data. Instead, NRG Expert** has done the hard work for them. Companies can subscribe to NRG Expert's Almanac and get immediate online access to vital North American power data which is often unpublished elsewhere. In addition they can access the energy data from any web browser in the world, even their smart phones.
Data is available on individual countries, (eg USA energy data, Canadian energy data, Bermudian energy data or Mexican energy data), or companies can purchase all four regions in one go.
Visit NRG Expert to find out more: http://www.nrgexpert.com/north-american-energy-data-and-staistics/
What's in the North American Energy Database?
Energy data is provided on the following:
1) Electricity Data:
> Electricity Transmission installed base data,
> Electricity Distribution installed base,
> Voltage tables, metering installations,
> Smart meters,
> Prices and feed-in tariffs,
> Capacity by Fuel type,
> Total energy production, total consumption,
> Energy Imports & exports,
> North American power plants listings,
> Listings of electrical supply industry companies in North America, US, Mexico, Bermuda and Canada.
2) Gas Data:
> Proven North American natural resources,
> Gross natural gas production,
> Production for consumption,
> Flared gas data,
> Imports & exports, consumption, prices,
> Meters installed in North America,
> Smart,
> North American gas companies listings.
3) Water Data:
> Access to drinking water data in North America,
> Annual renewable water resources,
> Fresh water withdrawal,
> Installed meters, smart meters,
> Water supply companies listings.
4) Petroleum Data & BioFuels Data:
> Emissions from consumption,
> Proven natural resources,
> Petro-distillation capacity, petro-production & consumption,
> Crude oil imports and exports,
> BioFuel production & consumption,
> Fuel ethanol production & consumption, and Bio Diesel.
5) Renewable energy for North America:
> Generation capacity data on North American renewable energy,
> Generating capacity of hydro and ocean energy,
> Data on wind energy and solar energy capacity,
> Geothermal power data,
> Data on biomass capacity.
6) Individual databases:
> Energy in Canada,
> Energy in Mexico,
> Energy in the US,
> Energy in Bermuda.
To find out more about US, Canadian, Bermudian and Mexican energy data and North American power statistics email info@nrgexpert.com or visit:
http://www.nrgexpert.com/north-american-energy-data-and-staistics/
Source:
*CNN 21 Jan 13,
Edition.cnn.com/2013/01/29/opinion/brune-climate-obama/index.html?iid=article_sidebar,