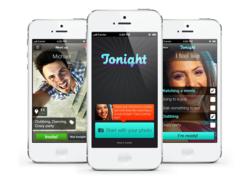 You arrive in a new city, start Tonight! and at the same evening you're joining a great party, without weeks of planning beforehand. Spontaneity is the spice of life!
London, UK (PRWEB UK) 14 February 2013
Launched in United Kingdom right before the Valentine's Day, Tonight! brings the term speed-dating to a whole new level. Thanks to the application, which is available free on iPhones, people are able to instantly (in real time) find a noteworthy person nearby who is interested in meeting up.
Why so many of online dating attempts are unsuccessful? There are many reasons; however, the most common causes of failure are the lack of rapid response and many inactive or even fake profiles. Thus, men used to send even more messages to get any response, but this leads to spam of women's inboxes. This shies away women from engaging and creates a vicious circle. Moreover, according to market research over 80% people lie in dating sites about their age, height, or physical build, with some even using fake pictures! So, when people finally meet their dream person they may feel a bit confused. Tonight! promises to solve these problems. The application allows, in a quick and accessible way to find in real time people who want to meet.
How does it work? Let the night begin by taking a few steps to create a profile. We have to use the app to take an instant photo, and then describe our preferences, what we're looking to do tonight, go for a drink? Go to the cinema? Which gender we're looking for?
What makes Tonight! different?

Tonight! does not allow users to upload their photos to ensure that everyone has an up-to-date photo.
No time-consuming account setup, or silly questions. Tonight! does not require any personal data like e-mail address, password or Facebook account information.
There's no painful sign out process – using 'End this night' feature, our current profile we'll be removed instantly.
Now, having the profile created, people can find someone local to party easily. Thanks to geolocation, the application searches for people nearby who are interested in having a night out. Just browse profiles one-by-one and invite them for a date. No more waiting for hours or days. Users have only 60 seconds to make a decision if they want to chat together. There is no 'inbox' in Tonight!, so there's no an option to get overwhelming number of messages – just one invitation at the time.
When both sides agree to chat, one of them can offer virtual drinks to initiate the conversation. Then decide on a meeting spot. The application allows you to find out where that person is. Perhaps, they are in a pub around the corner? And people shouldn't have problems finding their date thanks to the up-to-date picture. Now, it's time to enjoy the evening.
According to Sebastian Zontek, one of the Tonight creators: "We've launched this application for fun, and because we want to simplify meeting new people, especially when we travel to new places. And dating isn't always the point. Let's imagine – you arrive in a new city, start Tonight! and at the same evening you're joining a great party, without weeks of planning beforehand. Spontaneity is the spice of life!".
The application was launched on Tuesday, February the 12th on the UK App Store. In the near future an additional advantage of the application will be suggesting the best places to spend time while going out, picked up by local partners and review sites. In London, Tonight! has built a partnership with the local premium club promoting company, Capital A List.
So, for singles, maybe there's no better way to find someone to spend time with on Valentine's Day!