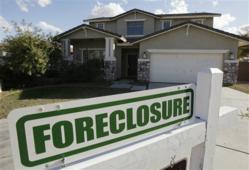 History that paints a coherent picture of the events that contributed to the subprime mortgage crisis
New York City, NY (PRWEB) February 27, 2013
In their latest "Lessons from History: Subprime Mortgage, Primetime Crisis" article, FinancesOnline.com journalists distilled snippets of history that paint a coherent picture of the events that contributed to the subprime mortgage crisis. The article cuts straight to the meat of matters and explains complex financial and economic concepts in bite-size nuggets that are easy to digest:

Low interest rates, lax regulation, and huge foreign capital inflow creates real estate boom
Boom years drive home prices up
House ownership mania afflicts Americans
Lenders ignore credit ratings, prey on disadvantaged sectors (subprime sector)
Americans go on a spending spree, sink deeper into debt
Wall street gets creative, creates complex derivatives – mortgage-backed securities (MBS)
Credit rating agencies give MBS an AAA credit rating
Hedge funds invest heavily on mortgage-backed securities
Subprime borrowers start defaulting on mortgages
Hedge funds take a beating, sending global shockwaves
The financial crisis is on
The journalists from FinancesOnline.com point out that much of the debate in the just-concluded 2012 elections swirled around the issues created by the recession. Perhaps, in 2016, repercussions will still be felt as America continues to struggle in gathering critical "escape velocity" to rocket out of it current financial woes. As the recession issue remains relevant, so will this article remain timely.
America marks the fifth year since the official onset of the financial crisis in December 2007. Many Americans still feel its lingering effect three years after the official declaration of its end in June 2009. America might be headed for another recession for reasons that some say are different than the ones that led to December 2007. As the US economy comes to terms with its biggest contraction (0.1% in Oct-Dec 2012) in three years, it's high time to revisit history.
The full "Lessons from History: Subprime Mortgage, Primetime Crisis" article is available at FinancesOnline.com. Easily worth just 10-15 minutes of the reader's time, the article is a valuable addition to any collection of resources on the financial crisis.