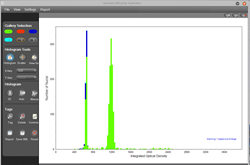 "The integration of this method is an exciting addition to our system, it will widen the types of cancers our system can provide prognostic for."
- Dr John Maddison
Crowborough, East Sussex (PRWEB UK) 15 February 2013
The prognostic accuracy of cancer is to be improved using a new image analysis technique. Room4 has agreed that a new method will be integrated into and extend the capability of its Ploidy Work Station platform.
The Institute for Medical Informatics, Oslo has announced a method that will allow for the further improvement of cancer prognosis. The article in Apollon, the University of Oslo's research magazine states "Today, too many cancer patients are over- or under-treated because the pathologists simply do not know enough. The prognostic certainty is only 60 per cent.
Pathologists, cell biologists and computer scientists at the University of Oslo have now developed a fully automated method that can determine the seriousness of a cancer prognosis with 80 per cent certainty. This means that the number of errors can be halved. In a few years, the method can be used in hospitals, initially with patients with bowel, ovarian or prostate cancer." http://www.apollon.uio.no/english/articles/2013/pathology.html
This new method will extend the current capability of the Ploidy Work Station (PWS) which currently measures nuclei DNA content to provide unique prognostic information for many tissue types. Once the new technology has been integrated into the existing system it will be available for research use, and should be available before the end of the year.
Room4 offers a selection of systems for image analysis in Pathology using both research microscopes and images from whole slide scanners.
There is a collaboration agreement between Room4 and the Institute for Medical Informatics, Radium Hospital (Oslo, Norway).