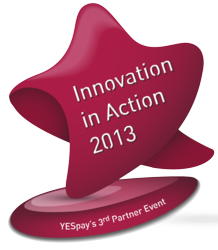 London (PRWEB UK) 14 February 2013
With the constant transformation in consumer payments, players across the payment value chain can stay ahead of the evolving industry by adopting the latest in technical advancements.
The theme of this year's Partner Event is 'Omni-channel Retailing and Point-to-Point (P2P) Encryption in Payment Services'. The event is going to be power packed with insightful presentations on topics like 'Multi-channel payment solutions for multi-national retailers' and 'Standalone terminals supported with Point-to-Point Encryption'. The presentations will also highlight Cross-channel convergence uniting mobile, e-commerce, brick-and-mortar worlds via smartphones and tablets.
YESpay is delighted to share the stage with WorldPay, UK's leading card acquirer throwing light on innovative modes of Integrated Payments.
YESpay will also launch an exhaustive book on payments - 'Innovations in Cloud Payments and Mobile Payments'. For those seeking innovative topologies in payment systems, this book will be a great starting point with interesting insights on the mechanisms, future trends and opportunities.
"Readable and comprehensive, it distils a voluminous knowledge of the industry and how it is advancing. Part encyclopedia, part instruction manual, this book should be of interest to all working in or around payments. From retailers (both physical and eCommerce), to the providers of new payment methods to those in consumer banking and beyond, there is much to be learned from these pages".

Ron Kalifa, CEO, WorldPay
Join the Partner Event to enjoy the plethora of intriguing information and exploit it for competitive advantage on Feb 26th, 2013 at Centre Point, London
Click here to register now
13:00 – 13:30
Registration
13:30 – 14:00
WorldPay partners with YESpay to deliver integrated POS payment services - Explores the need for partnerships to deliver an effective integrated retail payment strategy for merchants of all capacities by Darren Wilson, Managing Director, Streamline at WorldPay
14:00 – 14:45
YESpay's solution to Point-to-Point Encryption for integrated POS - Delivering an effective strategy on implementing a secure P2PE strategy for multi-tiered retail, kiosk and mobile merchants by Dr. Chandra Patni, CEO & CTO, YESpay
14:45 – 15:00
Q&A session
15:00 – 15:30
Assisted selling made simple & secure for integrated POS - Enabling cross-channel convergence that unites the mobile, e-commerce and brick-and-mortar worlds via smartphones and tablets by Simon Curtis, SVP Strategic Business Development, YESpay
15:30 – 16:00 Standalone Terminals with advantages of fully integrated POS - A focus on helping small retailers using standalone terminals that give the benefit of an integrated payment gateway service by Rohit Patni, EVP Sales & Marketing, YESpay
16:00 – 16:30
Open Forum - An interactive question and answer platform
16:30 onwards
Cocktails and Networking
About YESpay International Limited
YESpay International Ltd., a global card payments service company, provides highly secure Internet, EMV Chip & PIN, contactless and gift card payment processing services to independent and multi-chain merchants. Through EMBOSS, the YESpay Managed Payment Service, merchants can quickly accept Integrated card payments within EPOS, kiosks, hospitality and e-commerce systems with minimal capital investment and low on-going services costs. EMBOSS is an on-line IP-based payment processing service that has been generically pre-accredited by major Card Acquirers in Europe and North America (including First Data Merchant Service (FDMS), Chase Paymentech, Barclaycard Business, HSBC, HBOS, Lloyds Cardnet, Streamline, Ulster Bank, Elavon, PBS, Amex and Diners). In addition, the YESpay EMBOSS service is fully end-to-end certified to Payment Card Industry Data Security Standards (PCI DSS) Level 1 as mandated by Visa and MasterCard. The YESpay EasyV-Suite of card payment products is innovative and cost-effective for EPOS, Kiosk, Hospitality, Mobile and Internet environments. With the YESpay EMBOSS card payment service, merchants can perform card payments in both card-present and card-not-present environments.
Contact details:
UK Headquarters: Checknet House, 153 East Barnet Road, Barnet, EN4 8QZ, UK | +44 - 203 - 006 – 3790
Canada Office: 116 Spadina Avenue, Suite 201, Toronto, Ontario, M5V 2K6, Canada | 1 855-YES-PAY- 1
PR Contact: Neha Singh, Marketing Manager, ext. 402, neha(dot)singh(at)yes-pay(dot)com, marketing(at)yes-pay(dot)com