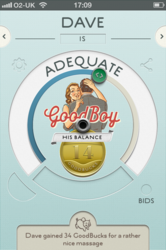 GoodBoy has been designed to help to get the errant man in your life to pull his metaphorical socks up.
CAMBRIDGE, UK (PRWEB) February 13, 2013
Domestic ineptitude, poor listening skills, and questionable personal hygiene– women in relationships have had to put up with a lot from their partners, but thanks to modern technology, that is all about to change.
"GoodBoy has been designed to help to get the errant man in your life to pull his metaphorical socks up." says Liz Clarey, one of the app's creators.
"It looks and plays like a 1950's board game, but there's more to it than that."
The app is installed on both players' phones.
GoodBoy tracks a man's performance using "GoodBucks" – the official currency of the game. The female takes the role of the bank manager and can credit and debit GoodBucks as she sees fit. The male earns GoodBucks by completing tasks, which he can then spend on rewards.
Tasks and Rewards are real, so anything goes – both players can suggest them and make bids for their values. The current balance is displayed on a large central dial on both phones allowing each player to gauge how things are going.
"Obviously the rewards are a big part of the game for men" Liz explains "but we believe the insights into their partner's way of thinking might be far more valuable for them in the long run."
"We're not making any promises but if played honestly and openly GoodBoy has the potential to make relationships more exciting, promote mutual understanding, and give couples a new way of expressing how they value the everyday things in their relationship." says Matthew Byrne, another of the apps creators. He continues, "It works both ways. The guy at the bar who gets a notification that he has lost a ton of GoodBucks for being late could go on to earn them back and claim a reward–like watching the game all afternoon - with no arguments. And the woman who hates socks left on the floor but loves a cup of tea in the morning can make her feelings known in a way that gets noticed."
Highly politically incorrect, some might say, but disarmingly charming and irreverent. By inviting us to have fun with the gender differences it helps us all acquire genuine insights along the way.
The app is launching in time for Valentine's Day and hopes to be more popular than the ubiquitous box of milk chocolates and red roses.
About GoodBoy
GoodBoy has been released for iPhones, and iPod touch. It is priced at $0.99/£0.69 in the App Stores in the UK, USA, Canada, Australia and New Zealand. For more information please visit http://www.goodboyapp.com
About The Refinery
Designed in Shoreditch, built in Cambridge–The Refinery is a new kind of app company.
A unique constellation of award winning advertising creatives, digital innovators, and world class programmers combining graphic design and copywriting from London with technological know-how from Cambridge to a single purpose – making great apps.
They believe every app should have a story to tell, and be built around a simple human truth.
For more information please visit refineryapps.com