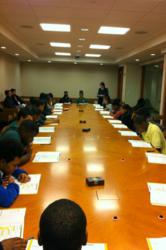 I was able to experience a career outside my comfort zone. I gained a lot of knowledge
Boston, MA (PRWEB) February 13, 2013
The Junior Class at Cathedral High received some great life skills lessons with two events through Boston's Junior Achievement (JA) Chapter. On Wednesday, November 14, 2012 Cathedral students participated in the JA Skills to Achieve Program. Designed for high school students, The JA Skills to Achieve is a program that takes place in a corporate location. Cathedral students spent the day at First Republic Bank in Boston and participated in the interactive program that focuses on financial literacy and workforce readiness.
Each forty-five minute lesson was guided by business professionals from First Republic Bank with the goal of enabling students to experience the workplace. Cathedral students received some valuable information on topics not always taught in the class room, including resume-building, financial decision- making, credit risk, and interviewing practices. Each one was presented from a variety of perspectives from First Republic employees. Sierra, a CHS junior, enjoyed the day."I was able to experience a career outside my comfort zone. I gained a lot of knowledge," Sierra said.
Later on November 28, 2012 another group of Cathedral juniors participated in the JA Stock Market Challenge. The Stock Market Challenge is a role playing event for the students to teach them how the stock market works. Each team participated in the contest to learn about the nation's financial system and to also have a chance to win some great prizes. The experience was rewarding for all the participants from Cathedral. "Our students enjoyed working as a team and can't wait to go back next year and win the prize," said Mrs. Jayashree Pillai, Chair of the Math Department at Cathedral.
"The Stock Exchange Challenge proved to be an eye opening experience for the students at Cathedral. This was the first time three teams represented our school," Mrs. Pillai said. Each team chose from a group of fictitious companies for the stocks they intended to trade in teams of four members, who managed an opening investment of $500,000. "They were excited to compete with teams from different schools," she added.
The experience was set-up to resemble as close to a day on Wall Street as possible with video screens that provided pertinent information such as the team's net worth, daily stock prices, trading cycles, and graphs of stock performance. There were runners on the trading floor and each team was responsible for tracking a portfolio of companies and trading decisions. "The organizers did a great job of simulating the trading floor and all the students got a sense of how intense the stock exchange is on a daily basis and sustained the energy throughout the competition," Mrs. Pillai remarked.