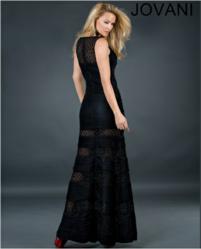 New York, NY (PRWEB) February 14, 2013
Jovani Fashions presents their newest collection of evening dresses exclusively available in stores. The New York-based fashion house is known for their extensive collection of designer gowns that are perfect for special events such as proms, weddings, and dinner parties. This in-store exclusive collection is giving retailers and customers alike a chance to gain the Jovani experience.
The new evening wear collection for 2013 features over 200 new styles of dresses from evening gowns to cocktail dresses. The versatility and creative designs in this February collection is a reflection of Jovani's commitment to providing a unique experience perfect for all events.
Selling exclusively within stores, Jovani's evening new arrivals collection will be available worldwide within some of the over 3,000 retail stores that sell the signature brand. By limiting this new collection to just stores, Jovani is giving its retail outlets a chance to increase sales in a difficult economic environment and customers a chance to get a more hands-on experience with their newest additions while. Customers will be able to look at and feel the craftsmanship of these amazing gowns. When buying a dress from Jovani, the New York-based fashion house wants its customers to receive the full Jovani experience.
The formal dress styles featured in this year's newest collection combine classic silhouettes with creative new detailing that makes these amazing pieces one-of-a-kind. Jovani 1518, which features a unique floral pattern of sheer tulle and chiffon panels on a mermaid gown, is a perfect example of Jovani's new inventive designs. While the trumpet style of Jovani 73954 takes a more classic approach to designer evening gowns in an amazing emerald shade. No matter the style or cut, Jovani's new designs bring glamour and elegance to any event.
Jovani's newest collection is sure to be a hit this season. The evening wear designer's commitment to providing dresses for women no matter the event is ensuring that Jovani is making women feel beautiful in their glamorous gowns. Retailers interested in getting a chance to sell this exclusive collection can apply to become an authorized Jovani retailer at Jovani.com. With a 30 year history, Jovani's popularity continues to rise.
Jovani has also provided customers a stress-free way to locate stores worldwide. Jovani's "Where to Buy" search engine on Jovani.com allows customers easy access to contact information to authorized retailers selling Jovani's selection of over 2,000 dresses.
Company
Jovani Fashions is a New York-based fashion house that designs and manufactures luxurious evening dresses and couture gowns. The world-renowned brand sells to over 3,000 specialty stores worldwide, including major department stores such as Neiman Marcus, Nordstrom and Bloomingdales. Jovani offers an extensive collection of evening gowns, bridal and chic cocktail dresses, in addition to their embellished couture designs. Jovani dresses are a favorite among A-list celebrities and editors, and they can be seen all over the red carpet and inside the pages of high-fashion editorials.
Contact: Felicia Garay-Stanton
Phone: (212) 279-0222
# # #