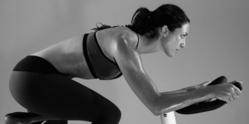 Miami, FL (PRWEB) February 13, 2013
Norwegian Cruise Line announced today that New York City's revolutionary, high-energy indoor cycling studio, Flywheel Sports®, will open studios on board the line's newest ships, Norwegian Breakaway in May 2013, and Norwegian Getaway, in February 2014, through a partnership with Mandara Spa. The line also unveiled details about Norwegian Getaway's state of the art fitness center and expansive spa area, featuring a tranquil thermal suite and therapeutic salt room.
Flywheel Sports will give fitness-conscious guests the ultimate adrenaline rush as they step into the ship's authentic, high-tech indoor cycling studios. Named "Best Fitness Classes in NYC" by Daily Candy, Flywheel launched in 2010 and has quickly become a fitness phenomenon nationwide, with over 20 studios in 11 states. In each class, highly motivational instructors lead the way, suggesting target resistance levels and RPM's for each rider to strive for. But ultimately, the riders decide how far they want to push themselves by controlling the proprietary technology on their individual bikes, arranged in stadium-style seating. Channeling the high-energy of New York City and the intoxicating vibe of Miami, each ride leaves the participants feeling energized, and motivates them to ride harder and faster than they ever thought they could.
An amazing escape that challenges the body and relaxes the mind, Flywheel classes are fully choreographed by certified Flywheel instructors and taught in a dimly lit studio, giving riders the opportunity to get lost in their workout and push themselves to the limit. Every ride is set to an incredible heart-pumping custom playlist created by the instructors from a collection of music carefully curated by Flywheel's in-house DJ and rides are synchronized to the intoxicating beats. The 45-minute class includes "climbs" and "descents," along with an upper body workout utilizing weighted bars that are attached to each bike.
Unlike bikes in other indoor cycling classes, the custom Flywheel bikes are tailor-made and feature proprietary performance tracking technology. Guests can set the positions that fit their body and comfort levels, from which they can best control their "tech-pack," an exclusive Flywheel feature, that displays the rider's resistance ("torq"), speed (RPM's) and power output (current and cumulative for the class), allowing riders to stay aware of their performance at all times. Riders with a competitive edge can even opt in to participate in the in-studio "Torqboards," large, flat-screen displays that occasionally flash leaderboards that show how each rider is performing in relation to others in the class.
Flywheel is just one exciting elements found in Norwegian Getaway's 23,000 square foot Mandara Spa and fitness center complex. In addition to Flywheel, guests can choose from a range of innovative fitness options to really get their heart pumping. Norwegian Getaway will feature Nexersys® interactive fight training modules, offering guests the opportunity to engage in high-intensity, interval training against an avatar, through the use of a simulator. Boxing lovers will also enjoy Norwegian's all new "Norwegian Fight Klub," which combines Nexersys® training with a cardio boxing class, utilizing the fitness center's 12 heavy bags.
Norwegian Getaway's fitness center will also offer a variety of all-new low-impact classes such as "Pure-Form Pilates," a Pilates-inspired class that utilizes weighted balls for added resistance; and "Chi Ball Yoga," a group class inspired by traditional Chinese medicine, combining elements of yoga, tai chi and meditation that completely exercise both the mind and body. Additional fitness offerings include TRX, Fight Klub and Body Sculpt Boot Camp classes. Personal training sessions will also be available, along with nutritional consultations and metabolic testing.
Guests who prefer to workout independently on Norwegian Getaway will enjoy the latest Technogym® cardio equipment and weights. All cardio equipment synchs to iPod music devices and features a large, HD screen from which guests can watch television, follow a set training program or navigate the playlist on their iPod.
Offering the ultimate in indulgent experiences, Norwegian Getaway's tranquil Mandara Spa and thermal suite will offer guests the ultimate escape and features a rejuvenating salt room. Popular in top spas around the world, salt room therapy has been proven to alleviate respiratory and skin ailments, strengthen the immune system, promote better sleep and have a long-term positive impact on overall lung function. Spa guests visiting the Salt Room will be immersed in a dramatic grotto setting as they enjoy this unique, indulgent and beneficial spa experience. Norwegian Getaway's tranquil thermal suite also offers guests spectacular unobstructed views of the ocean, the opportunity to melt away on one of the 13 heated loungers, vitality pool, whirlpools, sauna, solarium and steam room, along with a full-service salon and barber shop.
Norwegian Getaway's spa will feature 22 treatment rooms offering more than 50 signature services for both men and women including world-renowned Elemis signature clinically-trialed face and body treatments including the sought after Elemis Pro-Collagen Quartz Lift Facial and the Elemis Body Sculpting Cellulite and Colon Therapy. Other notable treatments include the luxurious "24 Karat Gold Facial," Thai Herbal Poultice, Bamboo and Freestyle™ massages; and two bliss® services: the bliss® triple oxygen treatment, bliss rhythm & bliss, and bliss® fatgirlslim. The spa will also offer acupuncture, teeth whitening and cosmetic medical treatments, performed by a licensed medi-spa doctor, such as Botox® Cosmetic, Dysport™, Restylane® and Perlane®.
The full service salon will offer hair, nail, waxing and special kid-friendly services. The area also features a full service Barber Shop, exclusively for men, offering treatments including haircuts and traditional warm shaves.
About Flywheel Sports
Flywheel Sports has revolutionized the indoor cycling experience. Since opening its flagship studio in Manhattan's Flatiron district in February 2010, Flywheel Sports has expanded nationally and today can be found in Manhattan, The Hamptons, New Jersey, South Florida, Chicago, Charlotte, Atlanta, Seattle and more. Founded by a team passionate about cycling – including legendary instructor Ruth Zukerman, who has been widely credited as the driving force behind the indoor cycling phenomenon – Flywheel Sports is an intense, incredibly inspiring and empowering cardio experience. Led by top-notch instructors, each ride is a unique journey that takes fitness to an unmatched level. For more information visit, http://www.Flywheelsports.com.
About Mandara Spas:
The Mandara experience began on the spiritual Buddhist island of Bali, inspired by the beautiful tradition of healing touches, which are so deeply immersed within the culture and passed on from mother to daughter from generation to generation. These time-honored therapies, combined with European methods and natural elements indigenous to Bali, meld together to provide the most unique and indulgent spa treatments. The name Mandara comes from a Sanskrit legend about the gods' quest to find the secret to eternal youth and beauty. We believe you will unlock the secret when you experience a timeless Mandara moment. Here, time stands perfectly still. Today there are over 60 branded Mandara Spas with locations in Asia, Africa and Europe as well as onboard Norwegian Cruise Line. For more information, visit http://www.mandaraspa.com.
About Norwegian Getaway
Currently being built at Meyer Werft in Germany, Norwegian Getaway will be 146,600 gross tons and offer a wide range of accommodations. The ship represents an opportunity for the Norwegian guest to "get away" from the routine of work, school, and daily stress, and find a true respite at sea that reflects the energy and culture that Miami is known for worldwide.
The ship will also feature a rich mix of stateroom options, including The Haven by Norwegian, comprised of 42 Suites at the top of the ship in an exclusive, private key-card enclave and 22 additional Suites located throughout the ship; the innovative Studios, designed and priced for solo travelers; a wide range of Oceanview staterooms, Balcony and Mini-Suites; along with Spa Balcony, Mini-Suites and Suites in close proximity to the spa. Norwegian Getaway's sister ship, Norwegian Breakaway, will begin sailing from her year-round home port of New York City in May 2013.
Norwegian Getaway will sail seven-day cruises from Miami to the Eastern Caribbean beginning on February 1, 2014, with ports of call including Philipsburg, St. Maarten; St. Thomas, U.S. Virgin Islands; and Nassau, Bahamas. Information on Norwegian Getaway's accommodations and itinerary can be found at http://www.getaway.ncl.com. To book a cruise on Norwegian Getaway, contact a travel professional, call Norwegian at 800-327-7030 or visit http://www.ncl.com.
About Norwegian Cruise Line
Norwegian Cruise Line is the innovator in cruise travel with a 46-year history of breaking the boundaries of traditional cruising, most notably with the introduction of Freestyle Cruising which revolutionized the industry by giving guests more freedom and flexibility. Today, Norwegian invites guests to "Cruise Like a Norwegian" on one of 11 purpose-built Freestyle Cruising ships, providing guests the opportunity to enjoy a relaxed cruise vacation on some of the newest and most contemporary ships at sea. Recently, the line was named "Europe's Leading Cruise Line" by the World Travel Awards for the fifth consecutive year.
Norwegian Cruise Line's largest and most innovative Freestyle Cruising ship, Norwegian Epic, debuted in June 2010 and has been named "Best Overall Cruise Ship" by the readers of Travel Weekly two years in a row and "Best Ship for Sea Days" by Cruise Critic. Norwegian Cruise Line is the official cruise line of Blue Man Group, appearing for the first time at sea on Norwegian Epic, as well as the official cruise line of Legends in Concert, The Second City®, Howl at the Moon Dueling Pianos, and Nickelodeon, the number-one entertainment brand for kids. Cirque Dreams™ & Dinner is also featured on board Norwegian Epic as the first show of its kind at sea under a big top.
The Company has two 4,000-passenger vessels, Norwegian Breakaway and Norwegian Getaway, under construction for delivery in April 2013 and January 2014, along with one larger "Breakaway Plus" vessel for delivery in fall 2015. Known as New York's ship, Norwegian Breakaway will be the largest vessel to homeport year-round in the city, sailing to Bermuda for the summer beginning May 12, 2013. Norwegian Breakaway's features include hull art by legendary artist Peter Max, seafood restaurant Ocean Blue by famed New York Iron Chef Geoffrey Zakarian, bakery by Buddy Valastro, star of the TLC series "Cake Boss," and fitness classes and a retrospective display from the ship's iconic godmothers, the Rockettes®. The entertainment lineup includes three Broadway shows: Rock of Ages, Burn the Floor and Cirque Dreams™ & Dinner: Jungle Fantasy. Sister ship Norwegian Getaway, the largest ship to homeport year-round in Miami, will sail Eastern Caribbean voyages beginning in February 2014. Sailings for both vessels are now on sale.
High resolution, downloadable images are available at http://www.ncl.com/pressroom. For further information on Norwegian Cruise Line, visit http://www.ncl.com, follow us on Facebook, Twitter, and Instagram @Norwegiancruiseline, Pin us on Pinterest, watch us on YouTube, or contact us in the U.S. and Canada at 888-NCL-CRUISE (625-2784).
# # #