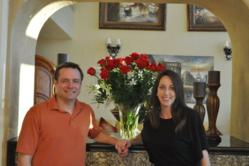 I was very excited that one of my customers won this year's roses. We look forward to this every year and it is a great way to show our customers how much we care about them
Coopersville, MI (PRWEB) February 19, 2013
SelfLube, the leading US manufacturer of mold and die components, offered the perfect opportunity for its customers to show their love for Valentine's Day. In the tool and die industry, lets face it, not everyone has time to shop for that perfect gift for that special someone. For SelfLube customers, that perfect gift is just a phone call away. Every year SelfLube gives its top customers a chance to sign up for its Annual Valentine's Give-A-Way. This year - Steven Lukovich and his wife Suzanne, from Pattern Craft in Milwakie, OR are the winners.
Every year SelfLube invites some of its top customers to participate in the Valentine's Give-A-Way. The winner receives two-dozen red roses that are delivered complete with a personal message from the customer, to the person of their choice, compliments of SelfLube. "I was very excited that one of my customers won this year's roses. We look forward to this every year and it is a great way to show our customers how much we care about them," explains Inside Sales Representative Angela Herring.
This is SelfLube's third year running the Valentine's promotion and the amount of participants was by far the best this year. The first year SelfLube gave away roses, customers were a little apprehensive, but now the invitation to sign up is well anticipated. CEO Phil Allor says, "We like to run special promotions like this, because it is a way for us to interact with our customers even more and reach out to those who have never heard of us. We just don't provide quality components, we build relationships through excellent customer service that keep the customer wanting to come back."
SelfLube is the leading US based manufacturer of precision mold and die components such as bushings, gibs, wear strips, parting line locks, lifter slides and related items - about 8,000 standard part numbers in all, many of which are self-lubricating. The company sells directly to build shops throughout North America and Canada, which results in both better pricing and better customer service. Its record for on time delivery is among the best in the industry.