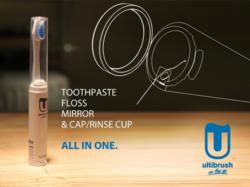 We've had a strong start, but we still need your help to make this happen.
Irving, TX (PRWEB) February 13, 2013
UltiBrush is the first ever all-in-one toothbrush to include a brush, toothpaste, floss, mirror, and protective cap which also doubles as a rinse cup. Gone are the days of lugging around a toiletry bag filled with dental hygiene products. Now, travelers and those on-the-go are always prepared with UltiBrush easily stored in their purse, backpack, car and more.
The latest and greatest toothbrush is currently holding a crowdfunding campaign on Kickstarter in order to raise the $12,000 necessary to manufacture the product. With just two days left in the project's crowdfunding campaign, UltiBrush has raised over $10,000 and is so close to reaching its funding goal.
"We've had a strong start, but we still need your help to make this happen," says Tyler Glover, co-creator of the UltiBrush, in an update to his supporters. "Please consider sharing the kickstarter page with friends, and post on Facebook and Twitter to help us get the project out there!"
In exchange for supporting this swiss army toothbrush on Kickstarter, UltiBrush has some exciting rewards to offer which include the UltiBrush itself, a limited edition Kickstarter UltiBrush, multiple packs of the toothbrush, a Valentine's Day reward, and more. Rewards start at just $1 and UltiBrush has made sure that there is a reward out there for everyone.
To learn more about UltiBrush or to support the project, visit http://bit.ly/UltiPR. But hurry, the campaign will end on February 16 at 1:11AM EST sharp!
About UltiBrush
UltiBrush is a 20-year idea of the Glover family that is being brought to market. The UltiBrush is an all-in-one toothbrush that includes a brush, toothpaste, floss, a mirror, and a rinse cup. They are anticipated to ship in the spring of 2013 for travelers, campers, and other people on-the-go everywhere. To learn more about UltiBrush, visit their Kickstarter page at http://bit.ly/UltiPR, Like them on Facebook at https://www.facebook.com/UltiBrush and Follow them on Twitter at http://www.twitter.com/UltiBrush.