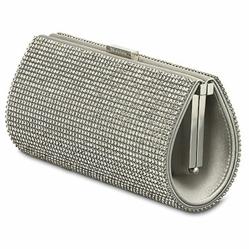 London (PRWEB UK) 25 February 2013
The one accessory which shouts red carpet louder than any other is the clutch bag. Available in a range of different shades from classic clear crystal to rich and flamboyant tropical colors, the Swarovski Power Bag suits a number of looks. Seen on various celebrities during the last couple of red carpet occasions and award events, no wardrobe should be without one!
Synonymous with sparkle and enchantment, Swarovski continues to nurture a close relationship with the silver screen. Swarovski is a regular at the most prestigious red carpet events worldwide, including the acclaimed Academy Awards, where in the past, Swarovski crystals have adorned the dresses, jewelry and accessories of famous stars such as Penelope Cruz, Marion Cotillard, Meryl Streep, Bérénice Bejo and Jennifer Lopez. Faithful to this prominent event, Swarovski returns to Los Angeles for the 13th consecutive year.
Widely regarded as one of Swarovski's iconic pieces, the Nirvana Ring remains unsurpassed in the realm of celebrity style and sparkles. Decidedly glamorous, its 93 precision-cut crystal facets demonstrate expertise and craftsmanship at its best. Creative, innovative, and feminine, this design has been hugely popular from the moment it was first released in 1998. Today, the timeless design has been given a twist and appears as the Nirvana Baby Necklace. Honoring the number of facets of the original ring, Swarovski issued 93 pieces of this eye catching beauty in a limited online edition. The top of the Satin Crystal ring has been engraved with a delicate Swanflower® pattern. They are available exclusively from the Swarovski online shop and are the must-have accessory for any serious academy followers, as Swarovski will be gifting this piece to the nominees of the prestigious "Best Actress" and "Best Supporting Actress" categories as well as the presenters at the Oscars. Red carpets, here we come!
For more glamorous red carpet temptations, please visit the Swarovski website.
For online use only.
In 1895, Daniel Swarovski, a Bohemian inventor and visionary, moved to the village of Wattens, Tyrol in Austria, with his newly-invented machine for cutting and polishing crystal jewelry stones. From this beginning that revolutionized the fashion world, Swarovski has grown to be the world's leading producer of precision-cut crystal for fashion, jewelry and more recently lighting, architecture and interiors. Today, the company, still family-owned and run by 4th and 5th generation family members, has a global reach with some 23,000 employees, a presence in over 120 countries and a turnover in 2010 of 2.06 billion Euros. Swarovski comprises two major businesses, one producing and selling loose elements to the industry and the other creating design-driven finished products. Swarovski crystals have become an essential ingredient of international design. Since 1965 the company has also catered to the fine jewelry industry with precision-cut genuine and created gemstones. Showing the creativity that lies at the heart of the company, Swarovski's own brand lines of accessories, jewelry and home décor items are sold through more than 1,900 retail outlets worldwide. The Swarovski Crystal Society has close to 325,000 members across the world, keen collectors of the celebrated crystal figurines. And in Wattens, Swarovski Kristallwelten, the multi-media crystal museum, was opened in 1995 as a celebration of Swarovski's universe of innovation and inspiration.