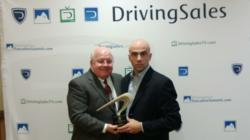 Cincinnati, Ohio (PRWEB) February 14, 2013
OneCommand (http://www.onecommand.com), the leading Customer Marketing & Loyalty Automation Platform™ for auto dealers, is the recipient of a "Top Rated" Owner Marketing Award in the fourth annual DrivingSales. It was presented at a special event on Friday, February 8, 2013, in conjunction with the 2013 National Automobile Dealers Association (NADA) Convention & Expo. Wayne Clark, Regional Vice President of Sales and Support, and Brian Consaul, Regional Client Manager, accepted this award on behalf of the organization and its staff. OneCommand received this "Top Rated" award in the Owner Marketing category, which is determined by the thousands of auto dealers who are part of the DrivingSales.com community.
"OneCommand is truly honored to receive recognition as a 'Top Rated' vendor in the Owner Marketing category by DrivingSales," said Jeff Hart, President and CEO of OneCommand. "Winning this award is a reflection of our industry-leading Client Service Team's commitment to assisting dealers to communicate better with their most precious asset, their customers. We would like to send a special thanks to all dealers who took the time to rate OneCommand's solutions and services on the DrivingSales website."
The foundation of OneCommand's Customer Marketing & Loyalty Automation Platform™ is five components: voice, email, text, direct mail, and social content. OneCommand's Customer Marketing & Loyalty Automation Platform™ combines an exceptional set of tools, but the real difference is OneCommand's AutoIntelligence™. AutoIntelligence™ is a methodology of OneCommand's proven data management and best practices that gives enrolled dealerships an edge. OneCommand also offers TrafficAccelerator solutions that help resolve dealership pain points to capitalize on specific opportunities. OneCommand is the industry leader in deploying leading-edge communication technologies that are proven to increase responses, drive traffic, and lower marketing costs.
"We congratulate OneCommand on winning a 'Top Rated' Owner Marketing Award and for being recognized by its dealer customers for high levels of excellence and customer satisfaction," said DrivingSales CEO and Founder Jared Hamilton. "Dedicated dealership service providers like OneCommand continue to step up and pioneer innovation, performance, and customer service that meets – and exceeds – the expectations of its dealer customers."
The DrivingSales Dealer Satisfaction Awards measure dealer satisfaction with vendor products and services, and are based on cumulative ratings tallied and verified during the calendar year (January through December) at DrivingSales.com Vendor Ratings. DrivingSales.com Vendor Ratings is the industry's only neutral, comprehensive vendor rating forum featuring real-time peer reviews and honest competitor comparisons. It also provides dealerships with important information from actual customers who have hands-on experience using vendor products/solutions in their stores. Each rating is verified as coming from an actual dealership employee.
Full award results are available online at http://dealersatisfactionawards.com/. Award winners are showcased in the Q1 2013 issue of the DrivingSales Dealership Innovation Guide, which, in addition to being distributed at the 2013 NADA Convention and Expo, is delivered to every new car dealership nationwide, as well as to the top 100 used car dealerships. For more information on the Dealership Innovation Guide, please visit http://drivingsalesinnovationguide.com/.
About OneCommand
OneCommand is the industry leader in deploying leading-edge communications technology proven to increase response rates, drive traffic, and lower marketing costs. OneCommand provides a Customer Marketing and Loyalty Automation Platform™, which is designed to drive customer loyalty in the auto industry. For more than a decade, OneCommand's proven platform of voice, email, text, direct mail, and social communications has been delivering results that are targeted, turnkey, and trigger-based. Every day OneCommand delivers more than one million personalized messages on behalf of its 4,000 clients throughout North America. Every auto dealership is looking for an advantage. OneCommand is the successful dealer's secret weapon for delivering consistent results in their Sales and Service Departments. For more information about OneCommand please visit http://www.onecommand.com.
About DrivingSales
Founded in 2008 and dedicated to the dealer community, DrivingSales is a business intelligence and performance improvement company that delivers unbiased*, profit-building information to make automobile dealers more successful through three distinct channels: DrivingSales Data, DrivingSales University and DrivingSales Media. DrivingSales Data houses the largest database of cross-vendor, dealership performance data in the North American auto industry and provides dealerships with the most statistically accurate performance benchmarks and metrics for their marketing and technology investments. DrivingSales University is a fully interactive online university that offers advanced profit-building strategies to automotive professionals through hundreds of classes taught by world-leading experts. DrivingSales Media connects dealers to peers and information through its global media assets, including DrivingSales.com, the world's largest automotive social network; the Dealership Innovation Guide, an industry leading quarterly publication; DrivingSales Executive Summit, the top automotive conference for progressive dealers, and DrivingSales TV, Web TV covering everything car-dealer related. Approximately one in every three dealerships in the United States has a registered member in the DrivingSales community.
*Vendor Neutral Policy: Dedicated solely to making dealerships more profitable, while also providing benefit to automakers and the industry as a whole, DrivingSales adheres to a strict vendor neutral policy through each of its channels. This means the company only provides unbiased information, not 'pay-to-play' follow up services -- and never accepts payment in exchange for media coverage or lets potential advertisers dictate messaging or create bias in any of its channels.
OneCommand Media Relations:
Kristen Williams (kwilliams(at)onecommand(dot)com)
DrivingSales Media Relations:
Melanie Webber (melanie(at)mwebbcom(dot)com), mWEBB Communications, 424.603.4340
Angela Jacobson (angela(at)mwebbcom(dot)com), mWEBB Communications, 714.454.8776