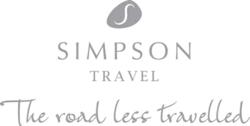 A honeymoon is arguably the most important holiday of a person's life and certainly not one to leave to chance
(PRWEB UK) 15 February 2013
With more and more couples setting up home often years before tying the knot, the interest in traditional 'first home' gifts has lessened in recent years. A growing number of young couples are instead opting for a 'once-in-a-lifetime' honeymoon and Simpson's Honeymoon Gift List represents a timely and innovative response to this changing trend.
After the couple has chosen their perfect honeymoon, Simpson Travel produces registry cards to be enclosed in the wedding invitations. Guests can then make a donation towards the couple's chosen honeymoon and add a personal message. Guests may contribute right up to the day of departure, with any overpayments being reimbursed to the newlyweds by way of cheque – potentially offering the honeymoon couple a welcome sum of spending money.
Simpson Travel recently expanded its original Mediterranean property portfolio of luxury villas, boutique hotels and stylish apartments in Greece, Turkey, Corsica and Mallorca with the introduction of honeymoon favourite, Mauritius, as its first ever long-haul destination. It launches Mauritius with the same signature formula for which the company has become known – stunning properties in hand-picked locations with a personal approach to service.
In announcing the launch of its Honeymoon Gift List, Simpson Travel's owner and Managing Director, Graham Simpson, commented: "A honeymoon is arguably the most important holiday of a person's life and certainly not one to leave to chance. With over 30 years' experience in creating bespoke holidays for a discerning clientele, we understand what it takes to create the perfect holiday. With our new Honeymoon Gift List, we are delighted to extend our expertise, service and passion to newlyweds looking to begin married life together in style and comfort."
Simpson's luxury honeymoon packages include villas, apartments or hotels and prices start from £565 per person for one week including flights, car hire and accommodation at the romantic one bedroom villa, Sa Teulada, in northwest Mallorca's beautiful countryside.
For more information on Simpson's Honeymoon Gift List or to find out more about Simpson Travel, please visit http://www.simpsontravel.com or call 0845 619 6610.