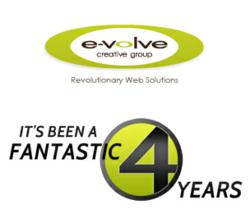 I have a very talented and passionate team, and look forward to what the future holds for us. We work hard for our clients, but we love what we do and have fun doing it.
Akron, OH (PRWEB) February 13, 2013
Despite its founding during one of the worst economic climates in U.S. history, Owner and President Todd Bertsch has led the thriving Evolve Creative Group, an Akron, Ohio-based Web design and online marketing company, to yet another year of positive financial growth as the company marks its four-year anniversary. His recipe for success? It's parts ever-expanding menu of top-of-the-line products and services, above-and-beyond levels of customer service, a consistent commitment to continuing education and community outreach and the steady maintenance of an employee-first, "work-hard/play-hard" office atmosphere.
The approach is more than paying dividends. Over the past year, Evolve Creative Group's client list has expanded to nearly 40, and includes several notable brands such as Akron METRO Regional Transit Authority, Great Day Improvements and Patio Enclosures, to name a few.
"Our recipe for success is pretty simple, when you think about it," Bertsch said. "Practice what you preach, and treat people as you would like to be treated. If you can follow these two rules, you'll be wildly successful in anything you do."
"It's also about surrounding yourself with great people and I've been fortunate enough to do so," he added. "I have a very talented and passionate team, and look forward to what the future holds for us. We work hard for our clients, but we love what we do and have fun doing it."
Of course, an always-changing Web industry doesn't allow a company to grow without a little self-evolution. In a continued effort to stay on top of the latest and greatest tools and techniques, the company shifted its position slightly over the past year, adding search engine marketing via SEO and PPC, responsive website and mobile design to its mix of services – officially becoming both a Web design and online marketing company. With the creation of Evolve U, a dynamic educational experience dedicated to providing insight on the online marketing channel, and the addition of two staff members, Evolve Creative Group has shown that as the company enters its fifth year, it can truly offer clients a full strategic online marketing solution.
"With any business, it's important to consistently review your business model and strategies and make changes along the way," Bertsch said. "If we don't evolve, we become stagnant and outdated. In our business, you can't afford to be left behind. That's why continuing education is such a big part of our mantra. We're constantly learning and feeding off each other. Not only does our staff benefit from this, our clients do as well."
About Evolve Creative Group:
Evolve Creative Group provides customized award-winning web solutions to the Akron, Canton and Cleveland, Ohio areas. Led by founder Todd Bertsch, the company has won multiple awards for its creative ingenuity and compelling designs. With a team of passionate web designers and developers, Evolve offers a full-suite of creative services including web design and development, mobile web design, SEO, eCommerce, video production, paid search marketing, email marketing and social media marketing.
For more information, visit http://www.evolvecreativegroup.com.