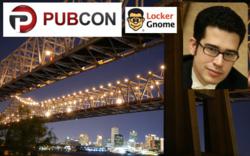 While content remains king, there's something greater than content to generate: a cult of personality. — Chris Pirillo, Pubcon New Orleans 2013 Keynote Speaker
AUSTIN, TX (PRWEB) February 13, 2013
Pubcon, the premier social media and optimization conference, is thrilled to announce that Chris Pirillo, noted online entrepreneur and founder of digital culture company LockerGnome, will present a major keynote address during Pubcon New Orleans 2013 on April 22 – 25 at the New Orleans Convention Center.
Pirillo, who has been sharing technology stories online since 1996, has a dedicated social media following including more than 116,000 followers on Twitter, 141,000 Facebook fans, and some people 240,000 view his popular YouTube video channel that has seen over 150 million views.
Pirillo's LockerGnome and other online properties are popular sources of up-to-the-minute technology and Internet culture news.
"We're excited to have Chris as a keynote speaker for Pubcon New Orleans 2013," said Pubcon founder and chief executive Brett Tabke. "Chris has a strong insight into the evolution of social media that is unlike anyone else's, and Pubcon attendees are in for a real treat in April when he shares his latest fascinating and actionable social strategies with us," Tabke added.
Pirillo will speak about an area widely underutilized in online advertising. "While content remains king, there's something greater than content to generate: a cult of personality," Pirillo said of his Pubcon New Orleans 2013 keynote.
"This isn't just about 'building a personal brand' — it's about evoking interpersonal connection with community. This simply cannot be gamed, and the rewards remain largely untapped by an industry that is buried by 'content' and outmoded means of measuring value. Attention is difficult to attract, and near-impossible to measure and maintain. Advertising models will be forced to adapt, and sponsorships will begin to reign supreme," Pirillo added.
Pirillo's keynote adds to an already impressive lineup of major keynote presentations lined up for Pubcon New Orleans 2013, including kick-off keynote speaker Michael Slaby, Obama for America chief integration and innovation officer — the chief technology officer behind one of social media's greatest success stories — and Dave McClure, noted venture capitalist and founding partner at 500 Startups.
During the week of Pubcon New Orleans 2013 in The Big Easy, Pirillo will deliver a keynote presentation to what is expected to be among the year's largest gatherings of new media and search professionals from around the world. Early-bird registration for Pubcon New Orleans 2013 is now open at some of the fairest prices in the industry.
Pubcon New Orleans 2013 will be held within convenient walking distance to famed Bourbon Street and Harrah's New Orleans, bringing the heart of one of the world's best-known downtown areas alive with top new media and search marketing professionals such as Pirillo, in a major technology conference loaded with Pubcon's famous multiple-track sessions, leading-edge keynotes, and a Monday, April 22 all-day intensive Pubcon Masters Group training program.
Learn more and register at http://www.pubcon.com
About Pubcon
Pubcon is a multi-track educational conference hosted by Pubcon Inc. Pubcon, supported by the industry's leading businesses, speakers, exhibitors, and sponsors involved in social media, Internet marketing, search engines, and online advertising, offers an in-depth look at the future of technology presented by the world's top speakers in provocative cutting-edge sessions.
For more information about the conference, contact Brett Tabke at 512-231-8107 or brett at pubcon.com
For more details about sponsorship and exhibition opportunities, contact Strategic Marketing Director Joseph Morin at 512-231-8107 ext 104 or joe at pubcon(dot)com