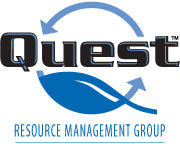 Sustainability. Delivered.
Frisco, TX (PRWEB) February 14, 2013
A commitment to minimizing its environmental impact over the past year has earned Texas based company Quest Resource Management Group recognition as a 2012 AT&T Supplier Sustainability Award winner. The award recognizes suppliers for their support of affiliates of AT&T*, one of the world's leading data, voice, wireless and Internet service providers.
"The suppliers honored with the AT&T Supplier Sustainability Award help make AT&T's sustainability programs possible with their innovative technologies and expertise. Together we are improving performance in the areas of energy efficiency, waste management, greenhouse gas emissions and water use," said Tim Harden, president of AT&T Supply Chain and Fleet Operations. "We're very pleased to recognize their contributions to sustainability at AT&T and around the country."
Quest Resource Management Group was one of only four suppliers to receive the 2012 AT&T Sustainability Supplier Award for outstanding contributions that supported AT&T's supplier sustainability efforts during the past year.
"We are very honored to receive the prestigious recognition from AT&T. This award reflects the hard work and dedication of our team and their drive to provide superior sustainability and recycling services to our clients," said Quest CEO and co-founder, Brian Dick. "We look forward to many more successful years with AT&T and helping them achieve their sustainability goals."
*AT&T products and services are provided or offered by subsidiaries and affiliates of AT&T Inc. under the AT&T brand and not by AT&T Inc.
About Quest Resource Management Group- (http://www.QuestRMG.com)
Quest Resource Management Group is a full service environmental consulting and management company, headquartered in Frisco, Texas. Quest helps Fortune 500 companies to maximize profits and mitigate risks, while minimizing their ecological footprints. Quest clients span across all key industry segments, including food services, hospitality, healthcare, manufacturing, construction, automotive aftermarket and fleet industries. Quest provides North American clients with comprehensive sustainability programs, innovative recycling solutions and proven environmental protection.
Quest prides itself in delivering targeted solutions exclusively tailored to the needs of each respective client. Quest also offers Return on Investment (ROI) and Return on Sustainability (ROS) based road maps to help clients design actionable programs for managing RFPs, defining operational protocols, creating and implementing training programs, and defining best practices. Quest's Sustainability Intelligence™ Dashboard helps clients improve decision making by extracting greater insights through unsurpassed business intelligence.