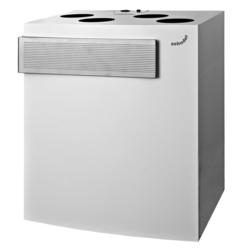 Boston, MA (PRWEB) February 19, 2013
In his first presentation in the United States, Eberhard Paul will address the important criteria to evaluate Heat Recovery Ventilators in Passive Houses and other high-performance buildings which require planned out ventilation at the NESEA Building Energy Conference in Boston, MA on Thursday, March 7, 2:00 PM-3:30 PM. Today's buildings have become tighter and more insulated due to building codes and energy-efficiency awareness and this has led to the need for proper ventilation for healthy indoor air quality. Air tight homes not properly ventilated are susceptible to poor indoor air quality as well as mildew and moisture damage.
The Passive House movement (super energy-efficient construction) has grown significantly in the United States the past few years. With the rise in popularity of Passive House construction, some confusion has arisen on how to evaluate the most efficient HRV/ERV units for Passive House construction and what makes certain units Passive House certified. In Paul's presentation, "Heat Recovery Devices: Evaluation for Equipment Efficiency and Heating in a Passive House," he gets into the key elements for evaluating efficiency and effectiveness as well as the requirements for Passive House (PHI) certification. In addition, Eberhard will show how efficiency and design impacts the comfort and health of energy-efficient homes.
Zehnder's Passive House Certified Novus 300, incorporating Paul's core, has a sensible recovery of over 90% efficiency and uses less than .28 Watts per CFM. Even during a cold winter day, the incoming fresh filtered air into the house is typically within 2-3 degrees from the inside temperature. The Zehnder Novus 300 HRV has set a new standard for the next generation of Heat Recovery Ventilation in North America.
About Eberhard Paul
Eberhard Paul has 40 years of experience in high performance projects throughout Germany. He is considered an expert for heat recovery systems for Passive House designs. Paul Company (part of the Zehnder group) makes some of the most efficient and advanced Heat Recovery Ventilators in the world.
About Zehnder America
Zehnder America offers Passive House certified Heat Recovery Ventilators for the North American market. Whether for a Passive House or other high-performance home, Zehnder's technical team will help with the designing of the Zehnder ventilation system to ensure optimal indoor air quality and comfortable living. Zehnder America is a division of the Zehnder Group, which has 3200 employees worldwide and specializes in advanced heating, cooling, and ventilation solutions. The Zehnder Group has been in business since 1895.