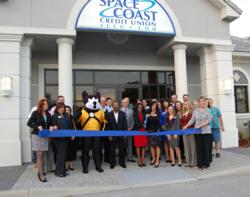 Melbourne, FL (PRWEB) February 14, 2013
Space Coast Credit Union is expanding its 56 branch network with three additional branches scheduled to open in 2013. The first branch opened this past January in Vero Beach Florida at 2750 9th Street SW on the corner of Oslo Road and 27th Avenue SW. SCCU has also started construction on branches in Viera and Miami Springs.
The credit union has additionally announced relocations of its Doral, Vero Beach Ryanwood, and Port St. John branches. The expansion and relocations are part of an overall branch strategy to improve member convenience.
"SCCU understands that our members are busy and we value their time," said Heather Hickman, SCCU vice president of retail branch administration. "We want to serve members where it's convenient for them to bank, on their way home from work or while they're running errands."
Kicking things off in 2013, SCCU's new Oslo branch celebrated its Grand Opening with a ribbon cutting ceremony on Thursday, Feb. 7, highlighting a week of special giveaways and promotions. This makes three branches now serving the Vero Beach area.
On January 22, the Doral Branch relocated to 9735 NW 41st Street, Doral, FL. It also hosted its Grand Opening week February 4-8. Additionally this spring, SCCU's Vero Beach Ryanwood branch will relocate to 6600 20th St., Vero Beach, FL in the Plantation Plaza on February 19. The Plantation Plaza branch will have its Grand Opening week March 11-15 with several promotions and giveaways for both members and non-members. The final relocation happening late this spring is the Port St. John branch which will move to a free standing location off U.S. 1.
The credit union's Viera branch will be located near the corner of Stadium Parkway and Viera Boulevard, and is scheduled to open in early summer. SCCU will have two branches to serve the Viera community with its Baytree branch location near the headquarters building on Wickham Road. The Miami Springs branch will open late summer / early fall and will be SCCU's seventh branch in the community.
In addition to its branch network, SCCU also offers members convenient access to accounts with over 100 ATMs, online banking, and more recently mobile banking.
Space Coast Credit Union was chartered in 1951 and is headquartered in Melbourne, Florida. The Credit Union serves over 376,000 members with assets of over $3 billion through a network of 57 branches and over 100 ATMs located throughout Florida and through its web site, SCCU.com. Space Coast Credit Union is open for membership to anyone who lives or works in the Florida counties it serves. Locations can be found at SCCU.com/locations.