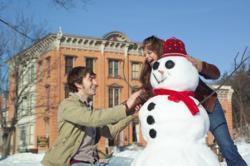 Saratoga is the place for an unforgettable weekend or a romantic winter trip.
Saratoga Springs, New York (PRWEB) February 15, 2013
Saratoga, NY is the Perfect Destination for a Romantic Escape and Fun Winter Festivals! Saratoga will host The Flurry Festival, Saratoga Beer Week, outdoor family fun and more this February. Visitors can also experience a romantic escape as well as great winter packages.
Soothing spas, fine dining, vibrant nightlife, boutique shopping and more all nestled into the charming, old-world ambience lends to a perfect getaway. Saratoga is the place for an unforgettable weekend or a romantic winter trip. Select Saratoga lodging properties are offering wonderful stay packages, allowing visitors affordable options to plan their trip. Saratoga's award-winning restaurants and cafés are also serving up seasonal dishes that will delight any palate. For more package information, visit http://www.saratoga.org.
Saratoga will host a culturally, unique event celebrating all dance forms, including Contra, Swing, Salsa, Square, Clogging and Waltz. For over 25 years, The Flurry Festival has been entertaining music and dance lovers and will again this year, with over 300 performers in 5 venues for more than 250 events. It will take place Friday, February 17 through Sunday, February 19. For more information, visit http://www.flurryfestival.org.
The second annual Saratoga Beer Week is a popular event featuring beer, beer and more beer. Beer Week, which takes place February 19-23rd, is headquartered in the Saratoga Springs City Center. Beer lovers will experience over 30 events. Those of age will enjoy taste-testing, seminars, food & beer pairing, pub crawl and so much more. The region's finest brewers are coming together for this growing event. For more information and schedule of events, visit http://www.saratogabeerweek.com
Back by popular demand is the Gore Mountain Snow Train. Now through March 2013, skiers visiting Saratoga can take advantage of this roundtrip train ride to North Creek, with meals and snacks available onboard. The Saratoga & North Creek Railway, Gore Mountain, select Saratoga hotels have teamed up to offer great Rail, Ski, & Stay packages. For more information go online to http://www.sncsnowtrain.com or call 877-726-7245.
There are also many winter romance, spa and getaway packages available to meet the needs of visitors. To learn more about Saratoga County including calendar of events, lodging and restaurants or for a free travel guide, go online to http://www.saratoga.org or call 1-800-526-8970.
About Saratoga, New York
Saratoga's attractions and spectacular scenery have made it a premier Northeast destination for centuries. Located approximately three hours from New York, Montreal and Boston, Saratoga features world-class horse racing, the performing arts, gaming, polo, award-winning golf courses, museums – including three National museums, a National Battlefield, Victorian architecture, great shopping, plentiful outdoor activities and so much more.