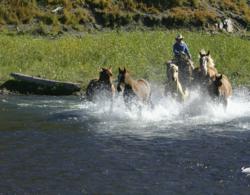 "Going to Rainbow Trout Ranch isn't really a vacation for us anymore; it's a MUST DO! It's just part of what we do every year." Pat Price, Vermilion, OH
Antonito, CO (PRWEB) February 14, 2013
Dude ranching is a long-standing tradition in the American west. During the time of the Great Depression, cattle ranchers sought to supplement their income by taking in guests, mainly from the east and known as "dudes." These guests thrived on the everyday ranch life, riding amid spectacular scenery and enjoying a simpler lifestyle. Before long guest ranches specifically dedicated to providing the western experience sprung up, largely in the Rocky Mountains.
One of these, the Rainbow Trout Ranch, located high in the southern Colorado Rockies was started primarily as a fishing lodge due to the excellent fishing on the Conejos River and nearby tributaries. In time horses were added so guests could enjoy the more remote country and the ranch became a destination for families.
In 1993, it became a full-fledged dude ranch under the ownership of the Van Berkum family. The sixteen guest cabins were remodeled, the property spruced up and children and teen programs were established in addition to other improvements. The first guests arrived in June and twenty summers later the ranch is thriving, drawing guests from all over the country as well as overseas.
As owner Doug Van Berkum says, "There is something about watching people come together at the ranch. Riding together, eating together, watching your kids have fun together will bring you closer in a week than people you've known for years. We have the privilege of watching this each week, and now each year when families who met here come back every summer to reconnect."
And the reconnecting is not only amongst different families, but also within families, especially those with teenagers. According to Linda, Doug's wife "We love watching teens arrive at the ranch and seeing how they change over the week. Often they are reluctant to be at a dude ranch with their parents, without all the technology they are used to. But soon they connect with each other and the simple ranch life and by the end of their visit they are hugging their horse and each other goodbye and begging their parents to come back. It is wonderful to see." Linda goes on to say that some of those teens have now grown up and bring their own families to the ranch, thus continuing the dude ranch tradition.
Summer of 2012 was a milestone for the Rainbow Trout Ranch as they celebrated their twentieth year of offering western multi-generational vacations to a mix of new and return guests in the spectacular Conejos River Canyon.
About Rainbow Trout Ranch
Rainbow Trout Ranch is a member in excellent standing of both the state and national dude ranching associations and has exclusively five star reviews on Trip Advisor. The ranch has a long tradition of superb western hospitality for families, couples, groups and singles looking for a riding and/or fishing vacation in the Rocky Mountains of southern Colorado. Inquiries can be made to 800.633.3397.