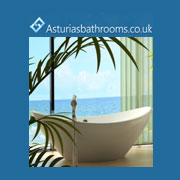 We contacted SEO Traffic Lab after we were recommended their services by another local business.
(PRWEB UK) 15 February 2013
Asturias Bathrooms, fresh from the launch of their new website, are delighted to announce a link up with local SEO firm, SEO Traffic Lab, as they launch a new social media campaign aimed at providing customers with what they want and need every step of the way. Specialising in helping local firms improve their online presence, SEO Traffic Lab are seen as the perfect partner for Asturias Bathrooms as they look to press on with their plans.
Asturias Bathrooms come into their new campaign on the back of the successful launch of their new website. The team behind the company have gained a number of years' experience in bathrooms and the company aims to be able to offer its customers the highest quality bathroom suites in the UK combined with highly competitive prices unmatched by any offline retailer, combined with the level of knowledge and service you would expect from a high street store. With the addition of a strong social media arm to the company's online presence, they hope that more and more customers will have easy access to this information and knowledge on a more regular basis.
Speaking about the link up with SEO Traffic Lab, Jon Francis Lee of Asturias Bathrooms said, "We contacted SEO Traffic Lab after we were recommended their services by another local business. They were very pleased with their work and their skill at the social media side of their online presence really made me take note. I hope that they can have as much impact working with us on our future endeavours." Asturias Bathrooms hope that this link up will help take them to the next level in terms of their business and SEO Traffic Lab believes they are able to help them.
Richard Hill from SEO Traffic Lab said, "We were approached by Asturias Bathrooms to help integrate a new social media platform for their business and really build their online presence and we are really looking forward to working with another local company and helping them to build for the future."
Asturias Bathrooms sell a wide range of bathroom suites from their online store as well as a number of fixtures and fittings to finish off their customer's bathrooms. Their hope for the future is for their customers to have somewhere to speak with their team in an informal basis and get help with all aspects of their bathroom design.
About Asturias Bathrooms
Asturias Bathrooms are a relative newcomer to the online world but bring with them a wealth of experience when it comes to bathrooms. As a local, Lincolnshire based, company, they feel they have the in-depth knowledge that the customer needs when planning their next bathroom and their online portal allows them to offer this friendly advice along with competitive, online only prices on a wide range of bathroom products from complete bathroom suites to taps and mirrors.