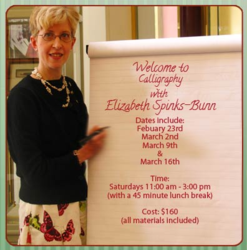 "To some extent I feel as if I'm helping to expand and preserve an ancient art. It's very gratifying to see others (especially young people) discover the joy of writing."
– Elizabeth Spinks-Bunn, Calligraphy Professional
Washington, D.C. (PRWEB) February 15, 2013
A series of four classes are being held at Fahrney's D.C. store on Saturday, February 23rd, March 2nd, March 9th and March 16th from 11:00 a.m. to 3:00 p.m. with a 45 minute lunch break. These classes are limited to only six students and costs $160, all calligraphy supplies included. These lessons will go through the steps to learn the art of calligraphy, focusing primarily on the italic alphabet, both upper and lower-case lettering.
Learning calligraphy improves individual focus, self-discipline and self-esteem through creative expression in the art of beautiful writing. Spinks-Bunn will teach this powerful and profound form of expression and communication, and instruct participants in the proper use of fine calligraphy pens.
Spinks-Bunn brings 20 years of experience in the field of "beautiful writing". Prior to joining Fahrney's Pens, she taught calligraphy for the City of Alexandria, provided calligraphy for the Library of Congress, the Republican National Committee and offered private lessons. Normally calligraphy books are a great option for practicing and learning calligraphy, but one would be hard pressed to find a book with the personal experience and guiding hand of a professional instructor.
The lost art of handwriting is one of the few ways people can uniquely express themselves. There's something poetic about grasping a writing instrument and feeling it hit the paper as thoughts flow through the fingers and pour into words. Handwriting allows people to be artists and individuals during a time when computers and e-mail are so often used to communicate. This class or a new calligraphy set from Fahrney's could spark the beginning of a lifelong passion for the art of handwriting.
Handwriting can add intimacy to a letter and reveal details about the writer's personality. These classes provide the perfect opportunity to acquire a life skill that will last forever. Prospective participants are reminded to act quickly as there are only six spots available in these introductory classes. To find out more about Calligraphy Classes and more visit Fahrney's website or their downtown Washington, D.C. retail store.
Store Address: 1317 F Street, NW | Washington, DC | 202-628-9525
###
Known as the "Write Place", Fahrney's Pens is the Nation's premier source for fine writing instruments and accessories including pens, pencils, refills, stationery, watches, leather gifts and more. Offering pen expertise since 1929, including custom engraving and pen repairs from the "Pen Doctor", Fahrney's is a family-owned business with a commitment to its customers—a commitment that has been rewarded with unparalleled loyalty. Visit us at FahrneysPens.com