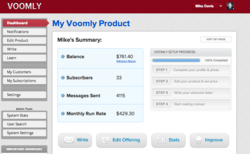 Voomly is a powerful platform that is transforming my business
Louisville, KY (PRWEB) February 27, 2013
Voomly announces the launch of its company based on the foundation that everyone has something valuable to share. Anyone with experience, talent or knowledge is invited to create a free account. No matter how big or small their following is, experts now have the chance to take their reputation and create a subscription business through Voomly.
"The vision is to create a simple platform for anyone with to monetize their expertise through their following on social media," states founder Andy Swan.
The launch of this subscription business platform plays on the heavy influence granted by social media sites like Twittter and Linkedin. Followers now have something to gain. By subscribing to an expert they already follow on social media sites they get unprecedented access to insider knowledge and know-how.
Experts on Voomly have three different ways of connecting with their audiences: private Q&A sessions, premium newsletters, and online courses. Starting a premium content subscription business on Voomly is as simple as sending and replying to emails. They use a double-blind email method, so neither party knows the other party's personal email address, but through screening, experts know that they are only getting emails from their paying subscribers.
Creating a subscription business gives experts extra cash on the side. Voomly takes care of all the billing, subscription management and messaging, leaving experts to decide how much and how often subscribers pay. For professionals with clients who need a little extra attention, Voomly is the perfect way to give those clients the added help they desire.
Voomly's launch presents a game-changing idea-- the monetization of social media relationships. It is fulfilling a niche that brings experts and audiences together anywhere in the world, and makes it easy for everyone involved.
"The elegant simplicity is what makes Voomly work," states Jeffery L. Minch, former CEO and President of Littlefield Corporation. "Through the Voomly platform, I am able to advise startups and seasoned businesses from California to Chicago to Norway. I've really enjoyed helping my subscribers with their challenges, while learning some stuff along the way." With over 25 years of experience being a CEO and President, JLM offers CEO coaching through premium Q & A as well as direct Skype access.
Other experts currently on the site include iPhone expert Judd Frazier. "Previous to Voomly my services were limited to my physical location," says Frazier. "Now I am able to reach any point on the map to help customers enjoy and use their Apple products. Voomly is a powerful platform that is transforming my business." Frazier has over 8 years of experience training customers and troubleshooting Apple products.
"I'm extremely passionate about helping individuals win," states Andy Swan. Voomly was launched by the same masterminds behind MyTrade, a social media platform for stock and options traders. It was sold in 2007 to TD Ameritrade for the founding team's second successful exit, making the team a proven success in the startup community.
"Our biggest regret with our previous businesses was that we never got to take the experts-to-audience model to other categories," Andy Swan says. "Combine that with our passion for helping individuals monetize their talent, and you can see why we created Voomly."
Bringing a turn-key solution for experts to monetize their social media audience, and helping everyone win, is what http://www.voomly.com is all about. Accounts are made for free, experts keep 90% of the revenue, and audiences get premium advice for a fraction of the cost. Everybody wins.
Just launched in 2013, Voomly's mission is to give people the power to turn their expertise and reputation into revenue. Anyone can sign up for Voomly and start a premium subscription business. Voomly is a privately held company and is headquartered in Louisville, KY.
###