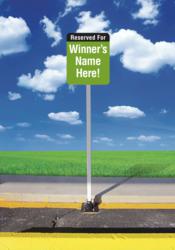 (PRWEB) February 15, 2013
Offsite airport parking company, Fast Park (located in 12 U.S. markets), wants to reward its most loyal customer with a free private and personalized parking space through 2013 which includes priority pick-up and drop-off. That's free offsite airport parking for every holiday, leisure or business trip throughout the remainder of 2013.
The "Perfect Match Video Contest" asks customers to record an up to 90-second video to demonstrate their love of Fast Park and why it's their favorite offsite airport parking option. Fans can sing a song, read a poem or perform their own cheer. They can talk about Fast Park amenities or share a favorite Fast Park story. The more creative, the better.
90-second videos can be uploaded between February 14, 2013 and February 28, 2013. The winner will be announced on March 4, 2013.
Videos can take place anywhere but they must be submitted for approval in two places: through the Fast Park Facebook page's contest application and on the participant's YouTube page with a video label of "Fast Park's Perfect Match."
Prizes*: First 25 participants: who upload a video to the Facebook page and follow the official contest rules will receive five days of free parking to be used at any Fast Park facility.
Every other participant: who uploads a video and follows the official contest rules will receive one day of free parking to be used at any Fast Park facility.
Contest winner: receives one free reserved parking space at their hometown Fast Park through December 31, 2013.
*Winners will be judged by Fast Park staff based on creativity of the video and representation of the Fast Park brand.
About Fast Park
Fast Park is a leading offsite airport parking company headquartered in Cincinnati. With 16 facilities in 12 markets throughout the country, its brands include FastPark & Relax, FastPark2, Airport Fast Park, and Park Place. Fast Park offers the highest-quality customer service at its facilities 24 hours per day, seven days per week. Its convenient shuttle service transports travelers directly from their parking spot to their terminal. Facilities are located in Albuquerque, New Mexico; Austin, Texas; Baltimore; Cincinnati; Cleveland; Houston; Memphis, Tennessee; Miami; Milwaukee; Orlando, Florida; Raleigh, North Carolina; and Tucson, Arizona. For more information, visit the Fast Park website or Fast Park's Facebook page.